Between 5 July - 19 September 2021 more than 200 miniature sculptures were on display at Dora House as part of the 10gram Challenge. 
A number of members have now kindly donated their 10gram Challenge sculptures to the Society, to be sold to raise funds for the anticipated restoration of Dora House, our headquarters in South Kensington. 
The following unique bronze works are all for sale, and offer a brilliant opportunity to purchase a small artwork by some of the leading contemporary sculptors practicing today.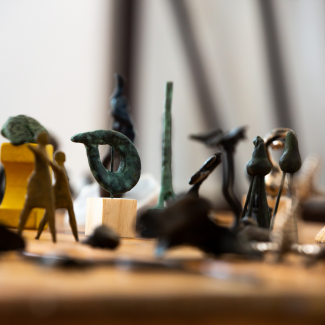 The brief was to produce a small scale sculpture from a 10 gram piece of wax. The kit was supplied by post and participants sculpted their piece which was sent to the Milwyn foundry in Surrey to be cast in bronze. The subject and style of the sculpture was open to interpretation and could be anything the artist was inspired to create during the first Covid-19 lockdown in the UK. There was a huge variety in creative responses, from a goat's head and a beaked figure to industrial abstract forms.
The idea transpired when Alex Davies, founder of Milwyn and member of the Royal Society of Sculptors, challenged himself to make a small sculpture when he was isolated at home during lockdown and unable to access his studio space. Realising the plight of other members faced with the same restrictions, the challenge grew organically as a way to create something on a smaller scale from the kitchen table.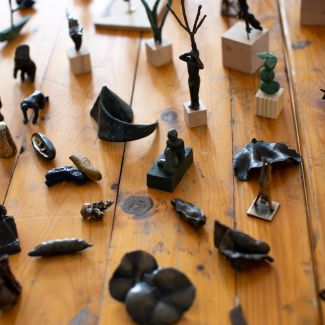 All works are priced at £260, which includes a £10 donation to cover postage and packaging.