The wilderness island of Eilean Shona has long been an inspiration for artists and writers. To further build upon this legacy, a members-only residency has been created - a month-long opportunity for a winning member of the Royal Society of Sculptors to live on the island and reflect upon and respond to the natural environment. Read more about the island in this article in the Financial Times: Unlocking the magic of Eilean Shona | Financial Times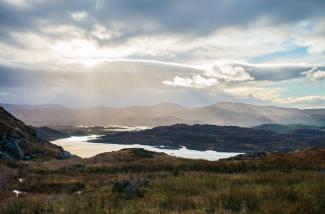 The 2022 winner is Mhairi Vari MRSS
About the winner
Mhairi Vari is a Scottish-born, London-based artist. She explains her approach to her work and thoughts on the Eilean Shona residency:
" My work often consists of material, philosophical and conceptual engagement with environmental concerns - fusing built with grown, synthetic with natural, virtual with physical - I seek a sensitive sculptural and sonic language that incorporates a relative transience and fragility. Exploring concepts rooted in the natural sciences I toy with structuring and ordering of materials gathered over time, accumulated and shape- shifted into new form. I employ emergent processes of making rather than those of design, always seeking the unexpected.

Drawing materially, intellectually and emotionally, upon human relationships with 'natural' worlds and from the liminality of coastal sublime I frequently engage in sculptural exploration of organic, arboreal and fungal form. Residency on Eilean Shona will be an incredible opportunity to develop these relationships and thoughts while immersed in a remote island habitat."
See Mhairi's portfolio here. 
About Eilean Shona
Eilean Shona is situated to the north of the Ardnamurchan peninsular and south of the Isle of Skye just off the West Coast of Scotland. With its ancient forests, craggy hillsides, hidden coves, sandy beaches and rich wildlife it is considered by many to be one of the most glorious of all the Hebridean islands.
Owned by Vanessa Branson, a champion of the arts, Eilean Shona's cultural activities play an important role in the islands identity alongside its focus of enriching its biodiversity. The island is car-free and every effort is made to be plastic-free and carbon neutral. Electricity comes from a hydro-electric power station and water is sourced from the hills.
About the Residency
The winning artist will have access to a studio overlooking Loch Moidart and Castle Tioram and be introduced to the area by the island woodsman. The woodsman will also be able to offer guidance and support concerning use of tools such as chainsaws. Accommodation is a one bedroomed woodman's cottage.
The opportunity also includes an artist talk, the chance to contribute to the island's permanent art collection and to contribute to the Eilean Shona blog. The artist will also be encouraged to document their progress for an Instagram takeover of the Royal Society of Sculptors account. There is an expectation that the work will remain on the island.
The residency will run from 28 February until 27 March 2022 inclusive.