Championing sculpture & the artists who create it
The Royal Society of Sculptors was founded more than 100 years ago and our aims to champion contemporary sculpture and the artists who create it remain true today.
We welcome everyone interested in exploring this art form and its many possibilities, and enjoy leading the conversation about sculpture today through exhibitions and events for all. 
We are an artist-led, membership organisation, supporting and connecting sculptors throughout their careers.
An Artistic Venue
Come and join in the conversation, through exhibitions, artists' talks and creative workshops . We invite you to view the world from a different perspective, to dig deep into the practice of individual sculptors and to challenge the way you think.
We are based in London's South Kensington, only a few minutes' walk from its great museums. Our home is the beautiful Dora House which is one of the oldest buildings in the borough and has recently been restored. It's a friendly, intimate space to enjoy contemporary art and engage in creative activities.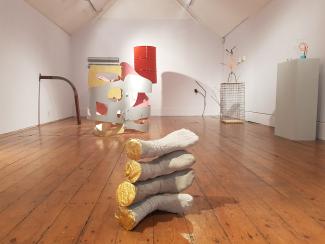 A Creative Community
The Society provides a supportive membership community to sculptors at all stages of their career. Our professional network of sculptors offers access to expert advice, as well as training, bursaries, residencies and awards. It also provides an opportunity to share knowledge and expand connections. 
Read more about the benefits of becoming a member.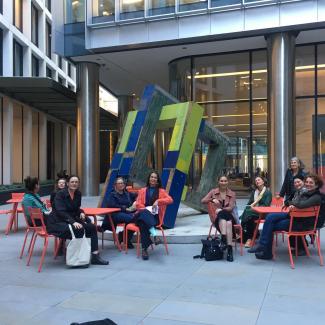 What's Important To Us
Equality, Diversity & Inclusion
The Society is committed to equality, diversity and inclusion (EDI) both internally and externally.  We have appointed Nicola Anthony MRSS as our Board champion to lead on our EDI strategy & policy. 
Sustainability
We have appointed Bill Price, Director at WSP structural engineers, as our Board champion to lead on sustainability.
The Royal Society of Sculptors is a member of The Gallery Climate Coalition (GCC), an international community of arts organisations working to reduce our sector's environmental impacts. 
Our Story began in 1905
The Society was established in 1905 with 51 members, including all the leading sculptors of the day. The founder members were Sir Thomas Brock RA (President), Sir Charles Lawes-Wittewronge (Treasurer), Sir George Frampton RA, William Silver Firth, Frank Lynn Jenkins, Thomas Stirling Lee, David McGill, Sir William Reynolds-Stephens and Francis Derwent Wood RA. 
The aims of the Society were cited as, "The promotion and advancement in the United Kingdom of Great Britain and Ireland, and its Colonies and Dependencies, of the art of sculpture and the maintenance and protection of the interests of Sculptors and the elevation of the status of the Profession of Sculpture."
In recognition of the Society's services to the art of sculpture, it was granted royal patronage in 1911 and became the Royal Society of British Sculptors.
An Educational Role
From the start, the Society has always wanted to educate - in terms of raising public understanding and awareness of sculpture, as well as maintaining professional standards. This educational role has included advising public authorities and private individuals with regard to exhibitions and commissioning. For example, the Society was heavily involved in the post-war efforts to commemorate the fallen and to reconstruct London.
The Society's educational role was acknowledged in 1963 when it achieved charitable status. During this decade, it was also generously bequeathed Dora House, the historic headquarters it still occupies, by the Dora Charitable Trust which was established by the late sculptor Cecil Thomas OBE FRBS.
Today we welcome all ages to enjoy sculpture and explore their creativity, from free holiday workshops for families and schools sessions to learning new skills at our popular Third Thursday events.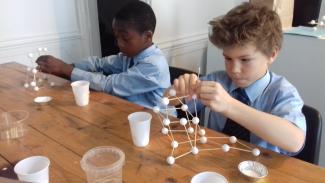 Gaining International Recognition
For many years the Society helped organise exhibitions in the UK and overseas but did not put on its own shows. This changed in the 1990s when the Society launched an active exhibition programme, opening a gallery at Dora House and mounting large off site shows.
This period of renewed activity attracted artists from around the world and in 2003 the Society recognised its growing number of internationally based sculptors as full members by changing its name and constitution to become the Royal British Society of Sculptors.
Bold Ambitions
In 2017 the Society activated plans to become a leading centre for sculpture. To make its mark on London's cultural map, the Society expanded its exhibitions and events programme, extended its opening hours and enhanced the support offered to its members. As part of these changes, the Society launched a new visual identity and was renamed as Royal Society of Sculptors. 
The Society has bold ambitions for the future. The first phase of activity was completed in 2022 with the £1m restoration of the exterior of Dora House.