Saving a Historic Landmark
In 2022 we set out to save our unique Grade II listed home on Old Brompton Road. With its rich artistic history and ornate architecture, Dora House has long been a South Kensington landmark. Yet, it was in urgent need of repair.
Our friends, members and supporters responded generously to our appeal to save Dora House.  In December we were delighted to announce that the external restoration was complete and in February 2023 we were able to, once again, open the doors of Dora House to welcome the public with a new exhibition by Polly Morgan.
We are open!
Working from the top down, specialist craftspeople have made our beautiful building safe, sound and structurally dry, whilst also restoring the façade to its original glory.
Every aspect has been carefully considered, from the chimney to the signature wrought iron balconies, from the front door to the stone work. Meanwhile, interior works are now being undertaken.
Dora House reopened in February 2023 with the unveiling of the First Plinth: Public Art Award exhibition with artist Polly Morgan.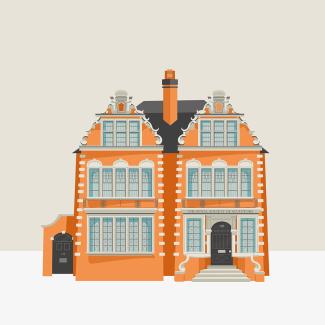 Huge thanks to our funders, members & supporters
The restoration of Dora House in 2022 was made possible thanks to the support of our friends, members and donors, including:
Deborah Loeb Brice Donor Advised Fund

Mirisch & Lebenheim Charitable Foundation 

Garfield Weston Foundation 

Foyle Foundation

Barrie Roman and Henry Richardson

The Royal Borough of Kensington & Chelsea

 

Heritage of London Trust

Katherine Ashton

North Street Trust
 

Woolbeding Charity

Paul S Zuckerman

Ironmongers' Foundation

Paul & Louise Cooke Endowment

The Finnis Scott Foundation

 

Pennycress Trust

Masons Company Charitable Trust

 

SRO Motorsports Group