A uniquely creative space
During its lifetime, it has been a home  - and studio space - for sculptors, photographers, painters, architects and designers.

Bequeathed to the Society in the 1970s by Cecil Thomas, it has been our home ever since, with £1m raised in 2022 to fund its restoration. Find out more about the Saving Dora House campaign here.
Distinctive, Ornate Architecture
The architecture of Dora House is highly individual, catching the eye in an area dominated by stuccoed Italianate villas. It is built in red brick with a pair of steep curved gables, classical details in stone in the Flemish manner and tall leaded light windows on three floors.
It was originally built by William Blake in 1820 as a pair of early Georgian semi-detached villas. The ornate frontage dates from a remodelling in 1885-6 to provide a grand studio for Court photographers Elliot and Fry. 
The Entrance Hall and the Salon were enlarged and decorated with plaster ceilings, fine stone fireplaces and strapwork panelling. These elegant rooms would have been hung with paintings by contemporary artists, as Fry was an important patron. 
A new north-light studio was also added, with a brochure at the time highlighting the ground floor location which would "prove a convenience…especially to Ladies in Court Dress or other elaborate costume."
This work was undertaken by a young Scottish architect, William Flockhart (1854 – 1913) who trained at the Glasgow School of Art. His other projects include Lansdowne House near Holland Park, a dramatic tower-like block of studios and living accommodation, commissioned by art collector Sir Edmund Davis, and first occupied by the artists Charles Ricketts RA and Charles Shannon RA.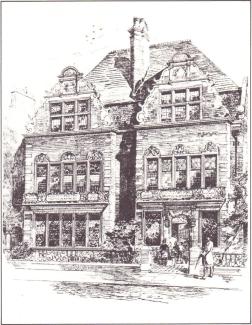 The Cecil Thomas Years
In 1919 the house was taken on by the sculptor Cecil Thomas (1885-1976) who worked here and adopted it as his family home with wife Dora and son Anthony. Thomas was best known for his work in memorial sculpture as well as coin and medal design.
He was commissioned for the tombs of two archbishops, received the OBE for his Coronation Commonwealth Coinage and became a Master of the Artworker's Guild in 1946. 
For some time after the Second World War, the attic floor and part of the first floor were let as an architect's office to Christopher "Kit" Nicholson (1904-1948), whose father and brother were painters. 
His partner was Hugh Casson (who became Sir Hugh Casson PRA) who later wrote, "We loved the Dutch house (as we called it) and were very happy there."
Cecil Thomas  loved the house too and carefully restored the front elevation. He set up the Dora Charitable Trust, named after his wife who died in 1967, to protect the long-term future of the house and to fulfill the family's generous intention to make the house and studio available to the Royal Society of British Sculptors, as it was then called, as it had had no permanent headquarters since its foundation in 1905. 
The Society has called Dora House home ever since, creating an exciting and inspiring space to enjoy sculpture in all its forms.
"Dora House is a uniquely sheltering, homely, safe place for sculptors and was given specifically for this purpose. It would be such a loss without it." Julie Brixley-Williams, MRSS