The Royal Society of Sculptors has grown substantially since it was first founded in 1905, going from a membership of 51 to almost 700. The majority of our members make a lifetime commitment to the Society, and we are delighted to celebrate Fellows who have been with us for 40 years! 
Diana Thomson FRSS joined the Society in 1981 and was elected a Fellow in 1990. She attended Kingston Polytechnic Sculpture department 1976-9 and shortly after leaving art college, she was commissioned to make several large sculptures, one of which "Father and Child", was shown at the Royal Academy Summer Exhibition in 1982.Another is a life-size homage to D.H.Lawrence sited at Nottingham University.
Recently, Diana has written and illustrated a book for children, "A Story for the Children of Today",  with 17 of her own watercolour paintings. She has also written two film screenplays and some poetry. At the moment Diana is working on some coloured sculpture based on the paintings in her book.
WHO WAS THE FIRST PERSON TO ENCOURAGE YOU TO BECOME A SCULPTOR? WHAT DID THEY SEE IN YOU?
Trevor Collis, a life-drawing and sculptor tutor at Camberley Adult Education Centre, in the early 1970's. He helped me to work for, and collect a portfolio suitable for an interview at Kingston Poly. (now University). He had been a student there himself, and he encouraged me to apply directly onto the BA Fine Art Course.
WHO WAS YOUR MOST INFLUENTIAL TEACHER?
There were several, all at Kingston. Charles Lewis, a mason and Head of the Sculpture Department. Annesley Tittensor who could anything with clay. John Robson, who had previously been an assistant to Henry Moore, a wood carver, and very keen on life-drawing. Also Michael Daley, who taught life-drawing. And my assessor, Elisabeth Frink, who had previously shared a studio with Charles Lewis.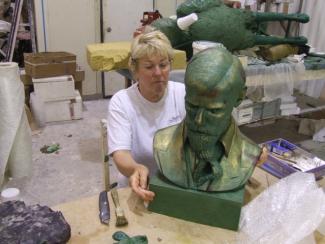 Diana Thomson FRSS working at the Foundry on the wax portrait of DH Lawrence
WERE YOUR PARENTS ARTISTS / ARTISTIC?
I think my father was quite a good draughtsman but only a "Sunday" artist. He was a career officer in the RAF, and did not have much time for art, but I do have a little pen and ink drawing that he did when he was on leave. My mother was a very creative Mum. Cooking was her thing. She made the most wonderfully decorated birthday cakes.
HOW DID THE ART MARKET RESPOND TO YOUR WORK IN THE EARLY DAYS? DID YOU GET PICKED UP BY A GALLERY EARLY ON?
I was never represented by a Gallery. I was commissioned straight away from Art School, after my work was shown in the Royal Academy in 1982. I did not apply for an MA Course.
WHAT WAS YOUR BIGGEST OBSTACLE AND HOW DID YOU OVERCOME IT?
Lack of funds to go to Art School. I always wanted to go to Art School., My father was killed in the war, he was Wing Commander Albert Golding DFC and Bar. The RAF Benevolent Fund paid for me to go to Cheltenham Ladies' College, where my mother, Kathleen Cunliffe, had previously been a pupil. In my last term my mother became ill, and I was, from then onwards, brought up by my Grandmother. I left school at 16 and had to earn some money. I enrolled on a Secretarial Course, and thereafter I got an office job. I was a young girl in London, where I met my husband, and we got married. He was in the film industry and I travelled with him for a while, until I had my daughter. I still wanted to go to Art School, so I took some drawing and sculpture courses at Camberley Adult Education Centre. When my daughter was old enough to do a full day at school, I got a portfolio together and applied to Kingston Polytechnic Sculpture Department on their BA course., as a mature student.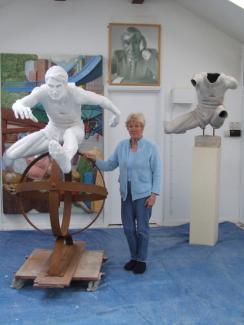 Diana Thomson FRSS studio with the plaster of The Hurdler
WERE YOU PART OF A PARTICULAR GROUP OF ARTISTS?
No, but as a child I always liked making things. I have a brother and we were brought up in Lancashire. We had two friends, both boys. Together, we made Balsa Wood Glider Kits and played with Meccano. We were always making things. I did not play with dolls. I had a toy farmyard. When I found clay later on, I started making things with it. We did not have TV.
DID YOU DEVELOP YOUR PRACTICE IN SOLITUED OR WITHIN A GROUP?
I always worked alone. I made all my work myself, even the large 7ft. figures, The Swanmaster and The Bargemaster. And I made my own armatures. I had to have help with casting the finished clay figures into plaster for the foundry. In those days, you had to present a finished plaster. There was no rubber moulding. My friend, a fellow student at Kingston, Alec Ryman, and Martin Hanson another friend, helped me. It was a huge job to make moulds by hand of large figures firstly into a waste mould of plaster, and then cast the moulds into plaster figures with strengthening in them. Then chip off the original waste mould and make good the plaster figures. No rubber moulds at all. But there is an upside to this work. You are left with a plaster positive of the original, which is like a good film negative. It is a faithful record and can always be cast again.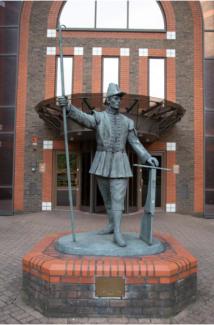 Diana Thomson's sculpture The Bargemaster in Brentford
WHAT WAS YOUR BIGGEST HELP?
Before Art School it was David Hockney.  I have never met David Hockney, but in 1973 I saw a little film he made, "A Bigger Splash", at a cinema in Baker Street. It featured a lot of his paintings, and I made an immediate connection.   From then on I sought out his work, and later his painting "Mr. and Mrs. Clark and Percy" was the subject of my first art history essay at Kingston. His draughtsmanship is inspirational.  His work convinced me to try for Art School.  I started at Kingston in 1976.
After Art School, it was Elisabeth Frink FRSS, who was my assessor at Kingston. She was very helpful to me. Also Annesley Tittensor, who was a great friend until his death.
DID YOU DREAM BIG OR DID "BIG" SCARE YOU?
"Big" never scared me. I made everything myself. No-one ever enlarged anything for me.
WHAT IS YOUR FAVOURITE COMMISSION / SCULPTURE YOU HAVE WORKED ON?
There are two. William Friese-Greene and D.H.Lawrence. Both involved an awful lot of research, which was very enjoyable. During the course of my research for D.H. Lawrence, I met Mrs. Margaret Needham, one of his two nieces. She invited me and my husband to her home. Later on I met his other niece, Miss Joan King, and I was particularly pleased that she looked a lot like her uncle. I had not seen her before I had started the figure, and she later came to the unveiling, after it was cast.
IS THERE ANYTHING ELSE YOU WOULD LIKE TO ADD?
I would just like to add that I am profoundly grateful to Kingston Poly. and all who taught there for changing my life, and for helping me realise my teenage ambition to be a sculptor. And also for Camberley Adult Education Centre, for helping me to get there, and who are still helping me now.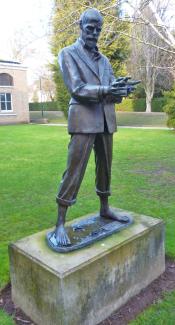 Diana Thomson's sculpture DH Lawrence at the University of Nottingham (image credit: Tony Shaw)