Thrilling outdoor bronzes with a distinctive cut and worked surface
An energy runs through Frink's work which comprises over 400 sculptures. With a preference to undertake only minimal planning, Frink captured the essence of the wild and natural. She had a single-minded focus on the male form, the divine and animals, from which she never deviated, even when there was a fashion for abstract sculpture. She was awarded the CBE in 1969, elected a Royal Academician in 1979, and appointed Dame of the British Empire in 1982.
Frink's best known pieces include the colossal Risen Christ for Liverpool Cathedral, Eagle Lectern in Coventry Cathedral and Man on a Horse at Piccadilly Circus, London. Other celebrated works include War Horse at Chatsworth House and the Kennedy Memorial in Dallas, Texas. In contrast to the traditional clay modelling approach established by Rodin, Frink worked by building up layers of plaster onto a wire armature which she then cut into and distressed. This was then cast in bronze and, early on in her career, concrete.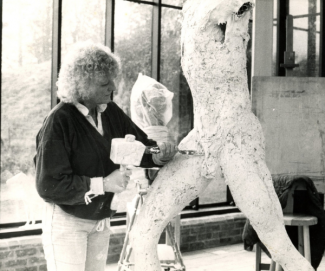 Born and raised in Suffolk, Frink developed a great love for the countryside. Yet her experience of living near an airfield was also to later influence her work,  which featured themes of war. A childhood trip with her father to Italy initially inspired Frink's desire to be an artist and she went on to study at Guildford School of Art and then Chelsea School of Art, under Willie Soukop. Although she made many drawings and prints, she is best known for her sculptures which centred on men, birds, dogs, horses and religious motifs.
She achieved commercial success at the young age of 22, when a solo exhibition in London led to the Tate Gallery purchasing Bird (1952). In the 1960s, her continuing fascination with the human form was evident in a series of falling figures and winged men. She lived in France from 1967 to 1970 and began a series of threatening, monumental heads known as 'Goggle Heads'. Returning to England, she continued to focus on expressing masculine strength, struggle and aggression, for example Running Man (1976).
In 1985, the Royal Academy staged  a major retrospective of her work and over this period Frink was relentlessly busy with commissions and public commitments such as serving on advisory committees.
Her sculpture Risen Christ would prove to be her last. Frink died of cancer just one week after its installation. Her official biographer, Stephen Gardiner, believed that this final sculpture was appropriate
"This awesome work, beautiful, clear and commanding, a vivid mirror-image of the artist's mind and spirit, created against fearful odds, was a perfect memorial for a remarkable great individual."