In the 1960s Cecil Thomas OBE FRSS was commissioned to create two sculptures for the Dunedin Botanic Gardens in New Zealand, 'Peter Pan' and 'Wendy and her Attendants' (the latter appears to have been referred to 'The Darling Children Learning to Fly' at the time).
In 1963 the sculpture of Peter Pan, dedicated to 'the Children of Today, Tomorrow and the Future' was installed as a result of a donation by Harold Richmond of Green Island. Richmond was also behind the commission of 'Wendy and Her Attendants' that would be installed shortly after.
At that time, Cecil Thomas lived and worked at Dora House before he generously bequeathed it to the Royal Society of Sculptors and we were delighted to be contacted recently by Catherine Lee who, as a child, posed for Thomas at Dora House to become Wendy. Catherine has generously shared her memories of the afternoons spent in Thomas' studio posing and later having tea with the sculptor and his wife Dora in whose memory the house is named today.
Images of Wendy and her attendants courtesy of Dunedin Botanic Gardens
In 1967, nine-year old Catherine Lee modelled for Cecil Thomas as Wendy in his bronze statue from J.M Barrie's Peter Pan
Back in 1967, I modelled for Cecil Thomas (the then owner of 108 Old Brompton Road, now Dora House, which he generously bequeathed to the Royal Society of Sculptors) as Wendy in his bronze statue of The Darling children learning to fly from J.M Barrie's children's book Peter Pan.  This was a commission from the Botanical Gardens in Dunedin, New Zealand which was home already to a very popular statue of Peter Pan himself. 
For a nine year old this was an incredibly exciting experience, which came about when my father answered a small advertisement posted in the window of a local shop.  I was the right age and had a long plait and somewhat cherubic face which suited the character well.  I would go to the studio every Wednesday afternoon after school, and position myself diagonally and rather uncomfortably on a step ladder, simulating Wendy in flight.  I never met the two boys who modelled her brothers Michael and John at my side in the statue, or the dog Nana looking up as her charges took flight, but the whole came together very successfully. 
Cecil would sometimes take me round the garden and show me his other works in progress, including a half finished bust of The Queen, telling me that I was even more important than her as my statue was taking precedence.  After the modelling session, I would take tea with him and his wife Dora until my father came to collect me.  A short documentary film was made of the sculpting process, in which I remember my older brother featured carefully conveying a cup of tea to me as I perched on the ladder - the only time in my life he had ever waited on me.
The finished bronze is now in situ on the other side of the world and is apparently much loved by visitors to the gardens.  When a friend of my father's visited and told the ladies in the gift shop that she knew the Wendy model, she was showered with free post cards of the statue with a message to the Wendy Child written on the brown paper bag containing them.  I haven't yet visited New Zealand, but it is certainly my aim to do so and seek out the finished bronze.
Catherine Lee, London, 2023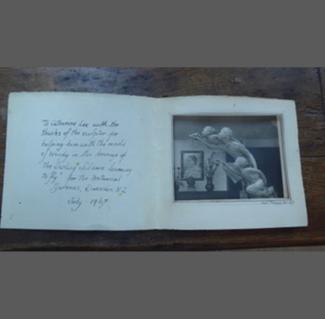 Thank you card received by Catherine from the sculptor
Text in the thank you card received by Catherine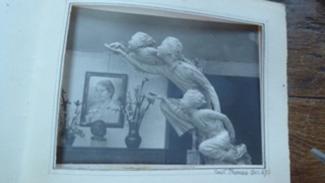 Close up of Wendy in the thank you card received by Catherine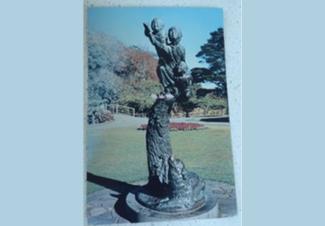 Dunedin Botanic Gardens postcard featuring Wendy and her Attendants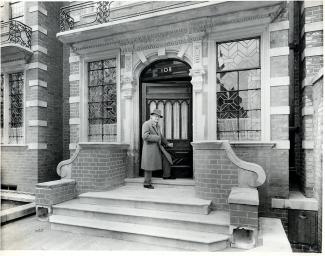 Cecil Thomas entering his home at 108 Old Brompton Road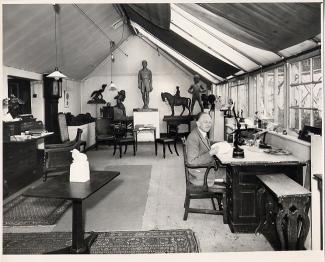 Cecil Thomas in his studio at 108 Old Brompton Road