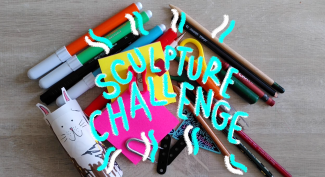 18-24 May 2020: Positive Futures
Creativity and Wellbeing week is run by London Arts in Health and the Culture, Health and Wellbeing Alliance. The festival creates core partnership events, while encouraging and supporting organisations and individuals to organise their own activities. This year the festival is being held digitally, with the theme 'Positive Futures'. 
In 2015 Tabatha Andrews won the 'First@108' Public Art Award (now known as First Plinth) to make two major new works on the theme of memory for the alzheimer's and dementia wards of Chelsea and Westminster Hospital in London. The first, The Dispensary, won the Building Better Healthcare Award for Collaborative Projects in 2017. The success of the project led the Society to develop its outreach programme  around health and wellbeing and to appoint a mental health first aider (our volunteer co-ordinator).
For Creativity and Wellbeing week 2020, we have created a hands-on sculpture challenge using words that describe feelings and sculpture. With simple materials like coloured pencils, pens, card and paper, as well as a few handy household items like staplers and sellotape, children can create unique sculptures based on their emotions and feelings.
The video can be viewed at the following link: Sculpture Challenge - Creativity & Wellbeing Week 2020
A range of other creative learning resources can be found at the following link: Learning & Resources
More information about Creativity and Wellbeing Week 2020 can be found here.