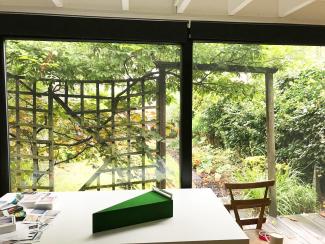 By Amy Stephens FRSS, Trustee
The recent mantra of 'do less but do it better' couldn't be more appropriate right now.
As a relatively new mum of twin boys, my life as an artist is shifting and evolving every day. I moved my studio to our garden flat in Clapham ahead of our new arrivals in order to continue to work from home.
With the lockdown in place, I decided to create something positive and join the online artists' support pledge instigated by Matthew Burrows. The main idea is to support each other during this time and to encourage the general public to, wherever possible.
Apart from the pledge, I have dusted off the old watercolour set that hasn't seen the light of day for over 10 years and return to painterly sketches. I hope this process will enable new forms to emerge that later present themselves as sculptures.
As an artist concerned with the reclamation of natural objects and the transferability of form via appropriation, the continual reuse of materials is more important than ever as we look to create less waste. Old and new works land and re-land in the studio resisting the ossifying force of finitude. My practice is rooted in a complex dialogue around our relationship to the various environments through which we move, construct and impact upon. The current climate is definitely teaching me to be more aware of our place within the natural world and to take more responsibility.
A recent podcast resonated with me strongly. It highlighted how artists have an inner resilience when it comes to working and turning their hand to daily survival. Just to work in our field takes serious determination and careful planning especially with time, materials and costs. One thing is for sure, we all need to support each other more than ever. To call up friends and family, to offer opportunities when they come our way especially if we cannot fulfil the brief.
The earth is healing; less planes in the sky, less litter on the streets, the air so clear you can apparently see the Himalayan mountains in parts of India and to see images of dolphins swimming in the Venetian canals is a silver lining to an incredibly turbulent and testing time for us all, whatever your vocation.
AS 01 May 2020