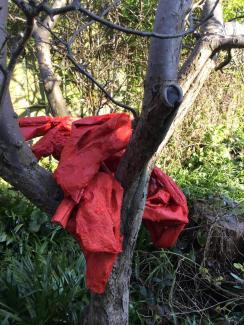 By Alex Harley, Trustee
Be careful what you wish for.
I honestly don't think that I am responsible for this outbreak but just a few weeks ago, I dreamt of being able to have just two weeks solitary time in the studio. I wanted time to think, draw and mull over ideas for a new project and be away from all distractions. Now after weeks of uncertainty regarding the Covid 19 and anticipation for a lockdown, here we are, with my colleges shut before the term ended.
I have been glued to the computer rather more than I had hoped during these first few days while I am organising projects for students to continue independently; it is also thankfully, a vital way of keeping in touch and making sure loved ones are ok. Now the 'new normal' is here for a while, we possibly, probably face several weeks, maybe months of isolation. I have been organising ways of working and what I plan to do. I keep reminding myself that I do not have to get everything done at 90 miles an hour because the timetables are not there for the moment. First job? Find the studio floor! I rarely play this game, I never win by finding all of it, largely because of the distractions when I find the 'treasures' – attachments, small tools etc, but now there is a small chance that I might actually complete the task.
I had stocked up on Dremel attachments last week in anticipation of social distancing and I am relishing the prospect of finally finishing the cleaning up of some bronzes that I poured with other members, Terry Jones and Paul Bonomini. Decisions about the Valley of Vision exhibition in Shoreham have not been finalised - it is an outdoor show in late June so there is a faint chance it will go ahead. In preparation I have been working with paper, the food blender has been requisitioned (it makes food taste bleurgh, so all soup will be lumpy from now on) and I am using pulp on the stiff card I usually use. I hope this will work but right now the different colours look odd and the surface textures are massively contrasting. Its paper, if it doesn't work, it is not a problem to change it, as a non-precious material I love the freedom to cut, squeeze, pull apart, re glue and re-shape …..and sound like the verb list by Richard Serra.
At home I am tackling the enormous list of jobs as long as my arm, but I suspect I shall not be dealing with those with much enthusiasm!