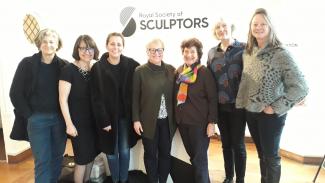 By ROSAMUND LILY WEST, PAUL MELLON RESEARCH CURATOR
International Women's Day 2020
For International Women's Day, I wanted to celebrate the women in the 'Pioneering women at the heart of the Royal Society of Sculptors' project, and the way women changed the perception of who – or what – a sculptor is. The project, funded by the Paul Mellon Centre, aims to shed a light on the lives, careers and histories of early female members using the Society's archive as well as the archives of other organisations. International Women's Day is a good day to reflect back on these early pioneers, and remember how they forged their careers in a traditionally male profession.
The twenty-five women I am researching may all have their gender and their profession in common but they are a wide ranging group of people. The oldest in the project - Lady Feodora Gleichen MRBS (1861-1922) - was born in 1861, and the 'most recent' - Naomi Blake FRBS (1924-2018) - died in 2018. These women claim heritage from England, Australia, Brazil, Sweden, Czechoslovakia, Estonia and Germany. There is a Countess related to Queen Victoria, a holocaust survivor, a librarian and a CBE or two.
The road to membership
In this blogpost, I wanted to share how women were first able to become members of the Society. I have been able to find this out through reading the Society's council meeting minutes. These are handwritten and are in bound volumes in our archive at Dora House. From the founding of the Society in 1905, women were not eligible for membership. This was a crucial omission as professional membership then, as now, provided access to commissions, exhibitions, opportunities and patrons: precisely the type of networks that, as a woman, was harder for female sculptors to access.
Remarkably, at the second ever council meeting held on 2nd March 1905, Sir Charles Lawes Wittewronge (a founding member and President from 1909 to 1911) recommended to the General Meeting that ladies be eligible for membership. At the next meeting, the next month, this was decided against. Four years later, the subject of women, of 'lady sculptors' is raised again – the early Society always refers to 'lady sculptor', never sculptress or sculptor, interestingly. On 5th April 1909 the President (now Charles Lawes Wittewronge) introduced the idea of admitting "distinguished lady sculptors to honorary membership". Honorary membership was the same status of membership that non-British citizens were allowed at this time. It is stated that this is being raised as part of the Society's remit of widening its appeal. At the next meeting, 4th May 1909, it is declared, "the admission of lady-members is desirable". This was made official at the Extra-Ordinary General Meeting on 20th January 1910, declaring women eligible as Members.  So, after initially being raised in the founding year, 1905, women were finally – officially – allowed into the Society in early 1910. To put that date – 1910 – into context, the Society of Women's Artists predates this, as does the Women's Art Guild. However, as women-only organisations, they would not have had the same influence or importance as a man's organisation. Also, in 1936 Dame Laura Knight was the first woman to be elected a full member of the Royal Academy, and so a woman was elected on the same footing as a man into the Royal Society of Sculptors before they were at the Royal Academy.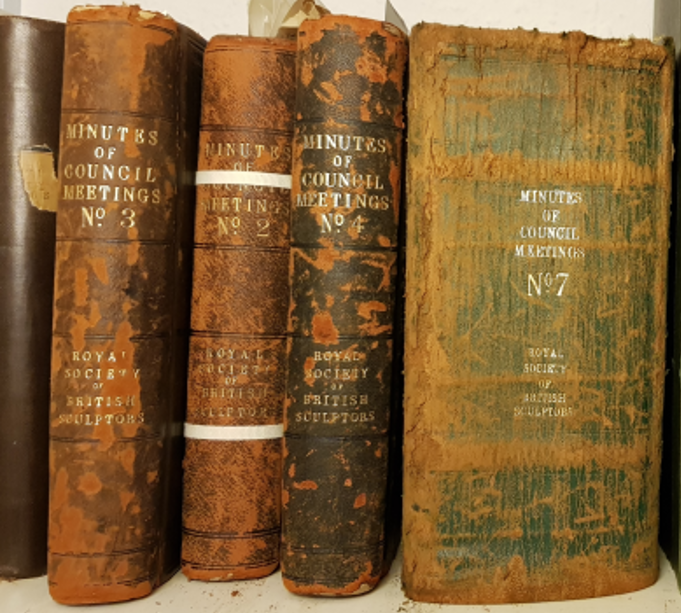 Early pioneers
The first women were elected to the Society in 1922. These were Lady Feodora Gleichen MRBS 1861-1922 (posthumously), Flora Kendrick FRBS 1880-1969 and Christine Gregory FRBS 1879-1962. Then, at the 192nd council meeting, held on 5th February 1923, Frederick William Pomeroy PRBS (1856-1924) is noted as suggesting: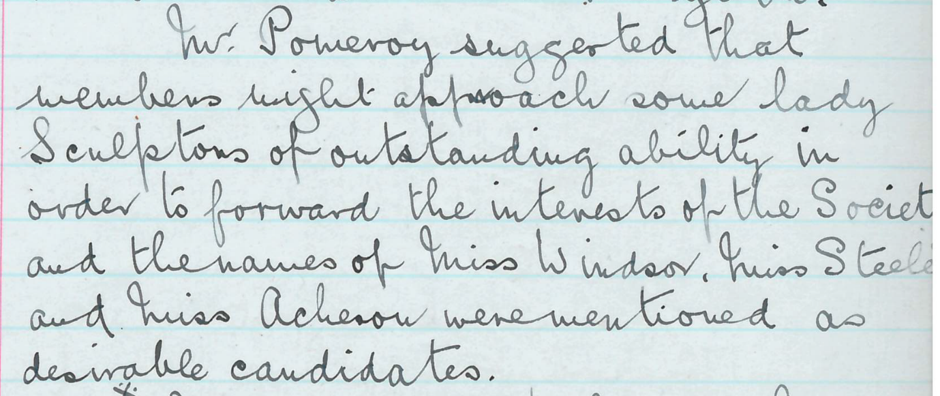 Only one of these women went on to become a member: Anne Acheson FRBS CBE (1862-1962). Acheson is one of the women in the 'Pioneering Women' project and she was indeed a 'lady sculptor of outstanding ability'. Acheson forged a successful commercial career, as well as giving up her sculptural practise during the First World War to volunteer with the Surgical Requisites Association. Here, alongside a fellow sculptor Elinor Halle, she used her knowledge of materials and anatomy to develop the use of Plaster of Paris to mend broken limbs – a process still used today all over the world.
For these women to have achieved enough in their career to be nominated by two (often male) sculptors is remarkable given the societal and logistical barriers before them. Arts and crafts perceived as suitable to women tended to be activities that could be done quietly in the confines of the home: embroidery, sketching, painting. Sculpture can be loud, messy, it is not always something that can be done delicately or tidily. Sculpting can involve heavy materials such as stone and marble, it was seen as too physical and involving too much strength for a woman to do properly. The sculptor Barbara Hepworth – a contemporary to many of the 'pioneering women' – often endured comments of surprise that such a tiny woman could work with such huge pieces of stone. Also, to practise sculpture often involves space – you need a studio or, if you are lucky a home-studio. Many women simply did not have the agency in their home life to request this of family members or husbands. One of the pioneering women, Julian Phelps Allan (who changed her name around 1929 from Eva Dorothy Allan) expressed these frustrations upon graduating from the Royal Academy Schools in the mid-1920s, "no studio or workshop would admit a woman – to gain the necessary working experience".
Women and the Royal Society of Sculptors today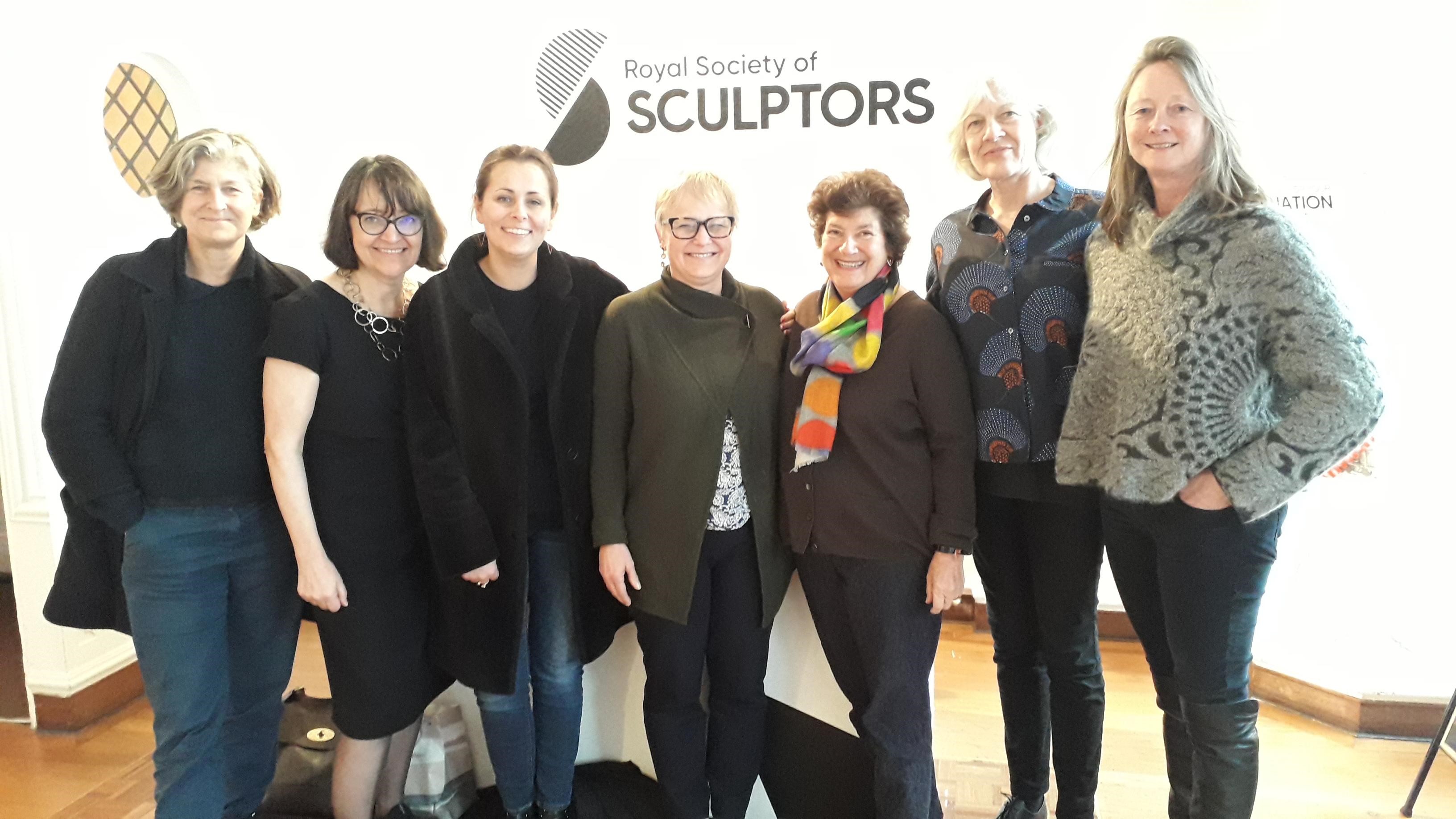 Today, women enjoy an equal presence in the Society. Our President and Vice President, Clare Burnett PRSS and Almuth Tebbenhoff VPRSS, are women. Our Director, Caroline Worthington is a woman. The board is over 50% women and, of course, our patron Her Majesty Queen Elizabeth II is a woman.