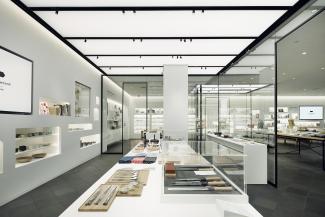 Michael Houlihan, Director General of Japan House London considers how the answer to 'What is Japan?' is constantly evolving
Japan House London was honoured to lend its support to the Society's latest exhibition Inside/Out: Jiro Takamatsu and Keiji Uematsu in Conversation. With Rugby World Cup this year, the Tokyo Olympics next, and the Osaka World Expo in 2025, Japan is very much on the agenda. At Japan House on Kensington High Street visitors can experience the authentic culture of today's Japan, from tradition to the cutting edge.
Both the concept of Chief Creative Director, HARA Kenya, and the interior design of KATAYAMA Masamichi convey the essence of Japanese aesthetics, embracing tradition with a vision for the future. Katayama's spatial concept is the tokonoma, an empty, raised alcove in a Japanese home where guests can admire displays of art such as a hanging scroll (kakemono) or seasonal flowers (ikebana). His meticulous design reflects the beauty and emptiness of the tokonoma, allowing the space to become a focal point for the diverse range of activities that Japan House hosts.
The Shop introduces Japanese products alongside their provenance, makers and designers, reawakening the pleasure and beauty to be found in the functional and commonplace. A travel information area offers free travel advice and literature.
The Gallery, Hall and Library present exhibitions, exploring Japan's innovation and respect for tradition in the contemporary. A thought-provoking range of events, workshops, lectures, performances and book displays support the exhibitions. Our eighth exhibition, WOW: City Lights and Woodland Shade is a digital art encounter with Japan and opens on 21 November.
By consistently asking and answering the question, "What is Japan?" Japan House shows a multi-faceted culture in a constant state of evolution.
Image credit: The Shop, Japan House London