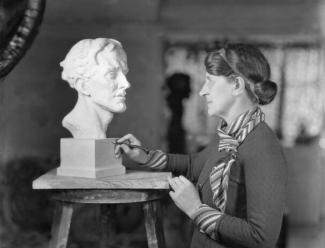 Lady Kathleen Scott FRBS (1878-1947)
Lady Kathleen Scott FRBS (1878-1947) was famous as the grieving widow of Captain Robert Falcon Scott, the Antarctic explorer. However, she had a long and successful career as a sculptor, becoming an Associate of the Society in 1928 and a Fellow in 1946. She studied at the Slade School of Art in London and also with Rodin at the Academie Colarossi in Paris. Amongst her works are two versions of her late husband, Captain Scott, one in Waterlow Place in London and one in Christchurch, New Zealand. During the First World War, she turned her talents in sculpture to medical use whilst working at Queen's hospital, Sidcup, under the plastic surgeon Dr. Harold Gillies.
We held a free event here at Dora House, 'Re-introducing our pioneering women: Lady Kathleen Scott FRBS' on Tuesday 12 November. At the event, Kathleen's grand-daughter Louisa Young, author of 'A great task of happiness: the life of Kathleen Scott', discussed her grandmother 's remarkable life. The event transcript will be available soon on our Downloads page.