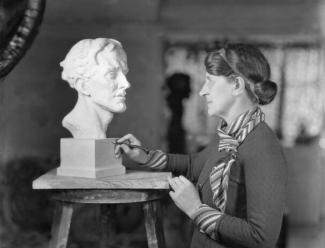 Lady Kathleen Scott FRBS (1878-1947)
Lady Kathleen Scott FRBS (1878-1947) had a long and successful career as a sculptor, becoming an Associate Member of the Society in 1928 and a Fellow in 1946.
Lady Scott was born Edith Agnes Kathleen Bruce. She was given the title 'Lady' on the death of her first husband, Captain Robert Falcon Scott ("Scott of the Antarctic"), who was knighted posthumously. In 1922 Lady Scott married Sir Hilton Young, who later became Baron Kennet, thus providing her with yet another name: Lady Kennet.
 
Lady Scott studied at the Slade School of Art in London and with Rodin at the Academie Colarossi in Paris. Amongst her works are two statues of her late husband, Captain Scott: one in Waterloo Place in London and one in Christchurch, New Zealand. During the First World War, she turned her talents in sculpture to medical use whilst working at Queen's hospital, Sidcup, under the plastic surgeon Dr. Harold Gillies.
Listen to Dr Jonathan Black from Kingston University giving the lecture: Martial Masculinity, The Female Gaze and National Identity in the First World War Memorials of Feodora Gleichen, Kathleen Scott and Gertrude Alice Williams c.1919-1934 at the following link.