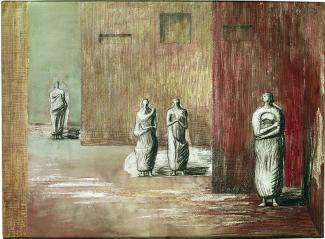 Hannah Higham, Curator at the Henry Moore Foundation, considers the importance of drawing for sculptors
This summer I was thrilled to see Henry Moore's Woman on the sculpture terrace at Dora House. Its installation coincided with the Royal Society of Sculptors' series of exhibitions Parallel Lines prompting a conversation between sculpture and drawing and including works on paper by Moore. In beautiful serendipity, we at the Foundation in Perry Green, Hertfordshire had just opened Henry Moore Drawings: The Art of Seeing (which runs until 27 October). Furthermore, in just over a month the Institute in Leeds will open Edward Allington: Things Unsaid (from 25 October). While primarily known as sculptors, both Allington and Moore were exceptional draughtsman. This constellation of exhibitions has provided a rare and concentrated opportunity to consider the nuanced way that sculptors use drawing – be that to create imaginary compositions, to explore the (im)possibilities of the page or more immediately express ideas.
Mutually engaged in contemplating the subject it was natural that the Foundation and the Society collaborated. I am delighted that the launch of our conference Sense - Perception: Sculpture, Drawing and the Influence of Classicism will take place at Dora House on Friday 11 October. Ancient civilization, primarily known to us through fragmentary sculpture, is a world both Moore and Allington at times attempted to reconfigure through drawing. How was creating such perceived space on paper relevant to their sculptural practice? Over three days in London, Perry Green and Leeds we will hear about a variety of approaches from artists, academics and curators including Tania Kovats, Lucy Skaer and Charles Avery. I hope you will be able to join us.  
Tickets £20, concessions and Society Members £15 available from: henry-moore.org