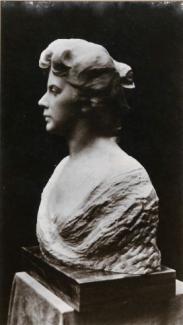 Lady Feodora Gleichen (1861 - 1922)
Pioneering Women is a research project designed to shine a spotlight on the lives, careers and legacies of the talented and extraordinary women at the heart of the Royal Society of Sculptors.
Each month in our Shape & Form enewsletter, our Research Curator, Rosamund Lily West will share with you something from the archive, and introduce you to some of the women who will inform the research project uncovering the lives, careers and legacies of women sculptors in the early to mid-twentieth century.
This month we focus on Lady Feodora Gleichen MRBS.
Lady Feodora Gleichen MRBS (1861-1922), was elected to the Society posthumously in 1922, and thus was one of the first female members of the Society. An award was set up in Gleichen's memory, awarding £100 to "a woman sculptor who has completed her training and is commencing her professional career and is deserving of assistance".
Gleichen was the eldest daughter of Admiral Prince Victor of Hohenlohe, who himself became a sculptor after he left the British Navy in 1866. Feodora always maintained that she gained a solid foundation in art training from working in her father's studio with him and his foreman, Carl Müller. Subsequently, by the time she went to the Slade School aged seventeen, she was already well versed in anatomy and the technique of modelling. Gleichen enjoyed a long career and her works include many large-scale pieces of well-known figures including Florence Nightingale and Lord Kitchener. Here is her portrait bust of Baroness Wimpffen, 1913.