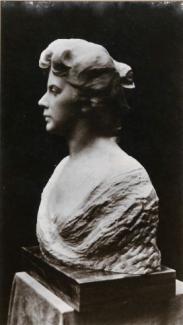 Lady Feodora Gleichen (1861 - 1922)
Lady Feodora Gleichen MRBS (1861-1922), was elected to the Society posthumously in 1922, making her one of the first female members of the Society alongside Christine Gregory FRBS and Flora Kendrick FRBS.

Gleichen was the eldest daughter of Admiral Prince Victor of Hohenlohe and a descendent of Queen Victoria. She maintained that she gained a solid foundation in art training from working in her father's studio with him and his foreman, Carl Müller. Subsequently, by the time she went to the Slade School aged seventeen, where she studied under Alphonse Legros, she was already well versed in anatomy and the technique of modelling.
Gleichen was close to the Royal family, which gave her unprecedented access to upper-class patrons. Her first commission was a life-sized marble of Queen Victoria surrounded by her children for the Children's Hospital in Montreal and she often submitted busts of her Royal and aristocratic patrons to the annual Royal Academy exhibitions. As her career progressed she was also commissioned for more public artworks, such as the 1914 monument to Florence Nightingale at the Derby Royal Infirmary and The Huntress fountain in Hyde Park. One of Gleichen's most significant works was her highly detailed Monument to Viscount Ingestre (1918) at St. Mary's, Ingestre in Staffordshire.

An award was set up in Gleichen's memory, awarding £100 to "a woman sculptor who has completed her training and is commencing her professional career and is deserving of assistance". This, the Fedora Gleichen Award, was awarded to many of our Pioneering Women including Anne Acheson, Rosamund Beatrice Fletcher, Christine Gregory, Karin Jonzen and Gwynneth Holt.
Listen to Dr Jonathan Black from Kingston University giving the lecture: Martial Masculinity, The Female Gaze and National Identity in the First World War Memorials of Feodora Gleichen, Kathleen Scott and Gertrude Alice Williams c.1919-1934 at the following link.