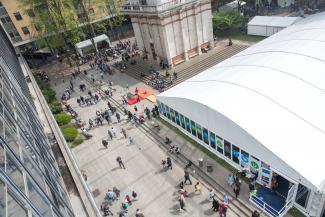 Sarah Berresford, Marketing & Communications Manager for Discover South Kensington invites you to explore the extraordinary this summer
Leading cultural venues are joining forces to recreate the spirit of the Great Exhibition of 1851 for the 21st century.
Over one weekend this summer, South Kensington's Exhibition Road will host a celebration of curiosity and discovery, with a new, free festival of art, science and culture.
Running from 28-30 June, the Great Exhibition Road Festival will see the area transformed, with an array of interactive workshops, behind-the-scenes tours, exciting talks and dynamic performances to inspire all ages.
The festival – a collaboration between Imperial College London, the Natural History Museum, the V&A, the Royal Albert Hall, the Science Museum, the Royal Commission for the Exhibition of 1851, Discover South Kensington, the Royal Society of Sculptors and others – marks the bicentenary of the births of Queen Victoria and Prince Albert, taking inspiration from their vision for the Great Exhibition of 1851, which showcased the latest innovations in British industry and culture, and was visited by six million people.
From robot air hockey to sculpture workshops inspired by the wonder material graphene there is something for everyone among the hundreds of events planned. The iconic road will be closed off to traffic for two days, as activities spill out into the surrounding streets and scientists and curators escape their offices to meet the public.
To attend the festival, please make sure to register for free. Registering is the only way to receive the latest Festival updates, a first look at the full programme, and exclusive opportunities to book onto popular talks and behind-the-scenes tours. Visit www.greatexhibitionroadfestival.com