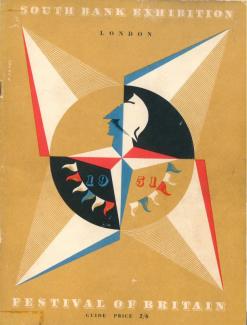 Rosamund Lily West, our Research Curator explores our involvement with the festival of 1951
The Great Exhibition Road Festival 2019 is a three-day festival in South Kensington. The festival offers a programme bringing together the science and the arts, echoing the vision that Queen Victoria and Prince Albert had for the 1851 Great Exhibition, two centuries on from their birth in 1819.
The Royal Society of Sculptors (originally the Society of British Sculptors) was formed in 1905 and therefore the Society is too young to have been associated with the 1851 Great Exhibition. However, the Society has connections with the 1951 Festival of Britain. The Festival of Britain was a delayed victory celebration, famously described as 'a tonic for the nation', as well as marking the 100th anniversary of the Great Exhibition of 1851. Indeed, the South Bank site of the 1951 Festival of Britain even contained a model of the Crystal Palace, which had burned down in 1936.
Cox, I., The South Bank Exhibition: A Guide to the Story it Tells (London: H. M. Stationery Office, 1951), p.85
Whereas the 1851 Great Exhibition marked a time where Britain proudly celebrated its Empire, showing exhibits from all over the globe, the world of 1951 was different. The Second World War was a recent memory, rationing was still in effect, and bombsites still littered our towns and cities. London's badly bombed and industrial South Bank formed the main site of the festival and it was here that architecture and sculpture were sited alongside one another. The South Bank exhibition site provided a huge opportunity for sculptors to display their work outside, be seen by thousands of visitors, and attract potential commissions. Our archive reveals how the Society was involved in the Festival of Britain and the siting of sculpture on the South Bank: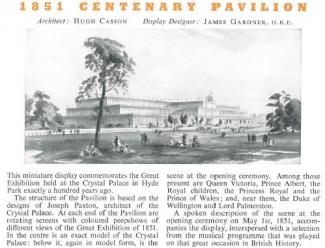 Royal Society of Sculptors, detail from 'Annual report of the Council for the year ending 31 December 1950'
Many of our members' work was included on the South Bank, including the large-scale The Islanders by Siegfried Charoux FRBS and London Pride by Frank Dobson, ARBS. A version of London Pride can still be seen on the South Bank.

Frank Dobson ARBS London Pride
A further connection the Society has to the 1951 Festival of Britain is through the Director of Architecture for the festival, who was the young architect Hugh Casson. Casson briefly had his practise at our Dora House headquarters, 108 Old Brompton Road, in South Kensington. For some time after the Second World War, the attic floor and part of the first floor were let as an architect's office to Christopher "Kit" Nicholson (1904 – 1948), and Casson. Hugh Casson later wrote, "We loved the Dutch house (as we called it) and were very happy there."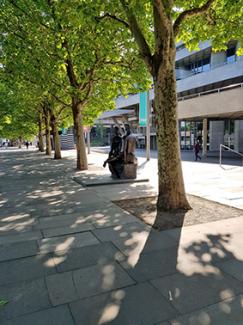 The Great Exhibition Road Festival 2019 is a celebration of curiosity, discovery and exploration in the spirit of the Great Exhibition of 1851. The festival will run from Friday 28 - Sunday 30 June 2019 and is a collaboration between institutions and organisations on and around Exhibition Road, South Kensington, London. The weekend will offer creative workshops, talks, exhibitions and performances many of which are free. For more information about the festival visit www.greatexhibitionroadfestival.co.uk
Dora House, 108 Old Brompton Road, the headquarters of the Royal Society of Sculptors