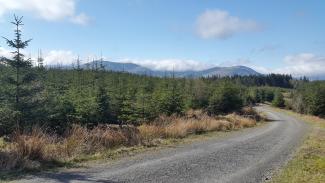 Hazel Stone reflects on the forestry Commission's centenary and recent collaborations with the Royal Society of Sculptors
Entering a new year is often a time of reflection as well as a time of optimistically looking to the future and this is particularly so for the Forestry Commission as it celebrates it's centenary in 2019. Originally set up following the First World War to restore the nation's woods and forests and address the timber shortages, the Forestry Commission now manages over 1,500 forests. Teams of wildlife rangers, foresters, craftspeople, recreation rangers and visitor services staff help to ensure the health and productivity of the forest, manage the wildlife it hosts and the many facilities which allow the public to explore these special places.
2018 marked the 50th anniversary year of Grizedale Forest's arts programme. Since 1968 artists have been visiting the forest to perform, undertake residencies, produce sculpture directly in the landscape and more recently showcase their work in the forest centre's galleries. 2018 also brought a new collaboration with the Royal Society of Sculptors, firstly with an exhibition of works inspired by nature in an exhibition showcasing nine members' work. We are also delighted to be hosting the first tour of the annual Bursary Award exhibition which is the outcome of a year's mentoring and professional development for early career artists curated by the Royal Society of Sculptors. This cohort of sculptors gives a snapshot of the talent emerging in this field, evidence of an exciting time for sculpture and working with partners such as the Royal Society of Sculptors to support professional practice in this field plays an important role. 
The touring Bursary Awards exhibition runs from 2 March - 2 June at Grizedale Forest.
Links: http://www.grizedalesculpture.org/