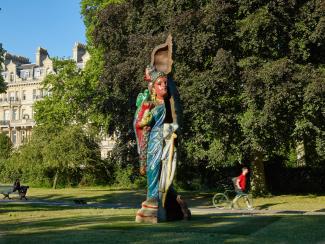 Dea Vanagan, Hauser & Wirth Director, reflects on Kher's new artwork for Frieze Sculpture 2018
In July, Frieze Sculpture returned to the English Gardens of Regent's Park in London for its seventh edition. Curated by Clare Lilley, Director of Programme at Yorkshire Sculpture Park, 25 artists were selected through an open call by international galleries. With a mixture of existing and newly commissioned works, this year celebrates the highest percentage of women artists in the exhibition's history including Kimsooja, Monika Sosnowska and Bharti Kher.
The Intermediary Family, 2018 is Kher's largest work to date – the concept groundwork beginning over a year ago during her three-month residency at Hauser & Wirth Somerset. Her residency space, once a modest malt factory, is in stark contrast to her large studio in Delhi, where she is capable of working on multiple big projects simultaneously. Contrary to her normal working practice, the residency encouraged a focus on developing one project, which was based on an extensive group of collected small clay objects from South India. In a video documenting her residency, Kher explains her interest in the objects as they "represent an entire range and source of life – from animals to gods to the secular" and by physically breaking open these figures and fusing them together in unlikely configurations, Kher creates "new avatars", eventually resulting in the monumental work for Frieze Sculpture.
Kher's painted bronze sculpture stands 4.8m high and is one of the first pieces you encounter from the South East corner of the park. The Intermediary Family invites us to consider a transitional space in the present – somewhere between the concept of truth and actual reality. This notion of the go-between or mediums has fascinated Kher throughout her career, often resulting in unlikely pairings becoming hybrids, often half-female forms.
Frieze Sculpture and Bharti Kher's The Intermediary Family is on view until 7 October 2018.
Image credit: Photo by Stephen White. Courtesy of Stephen White / Frieze Sculpture / Hauser & Wirth