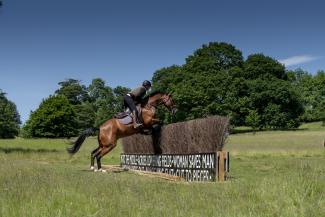 Helen Pheby, Senior Curator Yorkshire Sculpture Park discusses the park's new 14-18 NOW installation
The Coffin Jump by Katrina Palmer at Yorkshire Sculpture Park (YSP) is inspired by the role of women in the First World War, particularly the all-female First Aid Nursing Yeomanry (Princess Royal's Volunteer Corps). The artwork features a horse jump with texts written in response to the nurses' diaries. Originally intended to be on horseback, the FANY (PRVC) gave demonstrations at the 1911 Festival of Empire, where Clara Butt also performed The Enchantress. Tannoys near to the horse jump broadcast a recording of this song sporadically, announcing the activation of the work by a horse and rider.
The installation combines sculpture, soundtrack and performance and symbolises the new freedoms afforded to women in the war – a leap into the twentieth century. The associated poster artwork is the artist's appropriation and adaptation of a First World War poster, with the threat changed from German attack to women.
Founded in 1907, the FANY (PRVC) rescued wounded men directly from the battlefields, linking the front line with field hospitals. They continue to play a vital role, including being deployed in the aftermath of the Grenfell Tower fire and terrorist incidents in London and Manchester.
The Coffin Jump is co-commissioned by YSP and 14-18 NOW, the UK's arts programme for the First World War centenary, and made possible with Art Fund support. Special thanks to Sir David Verey, The Henry Moore Foundation and The Clothworkers' Company. With additional support from Melanie Gee, Larissa Joy and thanks to Midge & Simon Palley, Nicholas & Jane Ferguson and Tony McCallum.
The Coffin Jump is at YSP until June 2019.
www.ysp.org.uk  www.1418now.org.uk