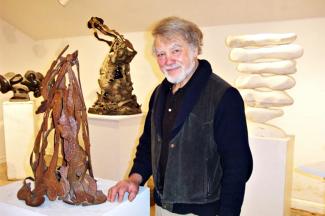 Internationally renowned sculptor, Society member & Henry Moore's assistant
Nadine Witkin, talks about her late father:
What a small [art] world! I just returned from the International Sculpture Center's art tour of Mexico City - an amazing trip that included a visit to Mexico's oldest gallery - Galeria de Arte Mexicano, which happened to be hosting an excellent show of Royal Society of Sculptors members' works. Coincidentally my late father, modernist sculptor Isaac Witkin, was a former member.

Isaac was born in South Africa, but emigrated to London at age 18 to study with Anthony Caro at St. Martin's where he, along with William Tucker and Philip King became known as the "New Generation" of British sculptors who would shake up the art world. Isaac also became one of Henry Moore's most trusted assistants, whom he would credit with "opening up the heavens" for him as a sculptor. Recently, I ran into Brian Wall, a former assistant to Barbara Hepworth, who told me he heard that decades after my father left Henry Moore's employ, Moore would continue to tell his assistants that Isaac Witkin was the only one who truly understood his work – lamenting why they could not be more like him. In turn, the young sculptors would complain, "Who is this Isaac Witkin that Moore keeps going on about?"

In 1966, Isaac emigrated to the United States to accept a teaching post at Bennington College in Vermont.  He went on to make his greatest sculptural innovations in America, first in steel and later in bronze, ultimately inventing his own sculptural language of "drawing" with molten metal. But London would always remain important to my family. Not to mention that I was born there!

So when I returned home to New York from Mexico City, it was a delightful surprise to find a note from director Caroline Worthington, Director of Royal Society of Sculptors, who happened to find in the archives the original letter Isaac received from the Society welcoming him as an International Fellow. On behalf of my father, known in America as the "sculptor's sculptor", I look forward to continuing the transatlantic relationship with the Society – and a special thank you to Caroline for inviting me to say a few words about him.

Read more about Isaac Witkin on Wikipedia.