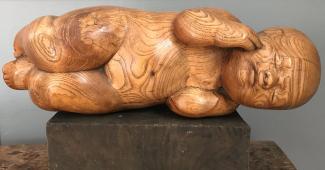 Constance Anne Parker FRBS (1921-2016)
Constance Anne Parker FRBS (1921-2016) was a sculptor and a painter, as well as having a career as a librarian, archivist and lecturer at the Royal Academy of Arts. Constance was elected a Fellow of the Society in 1983. Through her sculptural practise she produced figurative work such as Acrobats and The Wrestlers.
After having been gifted in art as a child, even having her work exhibited, Parker studied at the Royal Academy Schools between 1946 and 1951 where she won four silver and two bronze medals. During this time she also took evening classes in modelling and carving at the Regent Street Polytechnic and won the sculpture medal and scholarship. Her day job from 1974 to 1986 was as a librarian at the Royal Academy of Arts, and so she took an active interest in the Society's library, housed with the archive here at Dora House. She is depicted in Leonard Rosoman's painting The Meeting, Royal Academy of Arts, 1979-1984, alongside her Royal Academy of Arts peers.
Image: Constance Anne Parker, wooden carving of a baby (1950s).