The Royal Society of Sculptors has grown substantially since it was first founded in 1905, going from a membership of 51 to almost 700. The majority of our members make a lifetime commitment to the Society, and we are delighted to celebrate Fellows who have been with us for 40 years! 
Charlotte Mayer joined the Society in 1980 and was elected a Fellow in 1992.  She studied at Goldsmiths and the Royal College of Art in the late 1940s.
Mayer constantly seeks out the inner meaning she wishes to express in her sculptures. This is rarely seen directly but is felt in the resonance of her imagery which has its origins in nature - no matter how abstract her sculpture may be. Mayer's work ranges in size from the very small (4cm) to the near monumental (9metres). Her work can be seen in public places and private collections in Britain and abroad.
"A work of art should speak for itself. It should need no verbal description although a title may give a subtle hint of what is in the sculptor's mind".
Image credit: Charlotte Mayer FRSS with Monumental Turning 2016 (c) Photography by Steve Russell Studio
Below, Charlotte has answered some questions put together by the Society's current Vice President Almuth Tebbenhoff VPRSS.
WHO WAS THE FIRST PERSON TO ENCOURAGE YOU TO BECOME A SCULPTOR? WHAT DID THEY SEE IN YOU?
My grandmother was an amateur sculptor and her house and garden had many of her pieces standing there. So from a very young age I was aware that it was natural to be surrounded by sculptures.
WHO WAS YOUR MOST INFLUENTIAL TEACHER?
Ivor Robert Jones, who made the sculpture of Churchill in Parliament Square, taught at Goldsmiths College where I was a student.
WERE YOUR PARENTS ARTISTS / ARTISTIC?
No but they were interested in all manner of painting and sculpture and took me to see works of art.
HOW DID THE ART MARKET RESPOND TO YOUR WORK IN THE EARLY DAYS? DID YOU GET PICKED UP BY A GALLERY EARLY ON?
No I was not picked up by a gallery. I regularly sent my work to the Royal Academy and it was frequently exhibited there.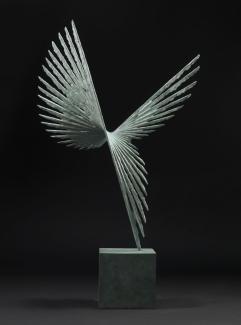 Charlotte Mayer FRSS Solar
WHAT WAS YOUR BIGGEST OBSTACLE AND HOW DID YOU OVERCOME IT?
Being a woman sculptor at the Royal College was looked down on by the men. The attitude was that one should be at home having babies. I was determined to be a sculptor and fortunate to meet a group of architects with whom I began to work on student projects.
DID YOU DEVELOP YOUR PRACTICE IN SOLITUDE OR WITHIN A GROUP?
In solitude but with the help of the architectural students.
WHAT WAS YOUR BIGGEST HELP?
Being determined.
DID YOU DREAM BIG OR DID "BIG" SCARE YOU?
I dreamt big.
WHAT IS YOUR FAVOURITE COMMISSION / SCULPTURE YOU HAVE WORKED ON?
The Tree of Life for the North London Hospice (image right). The Thornflower for Coventry Cathedral
IS THERE ANYTHING ELSE YOU WOULD LIKE TO ADD?
Sculpture is my life. Although I married and had three children, I have always worked. Even now at age 93 I still am happiest when in my studio.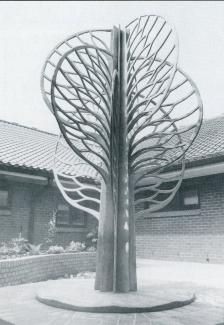 Charlotte Mayer FRSS The Tree of Life at North London Hospice 1992, published in ARTERY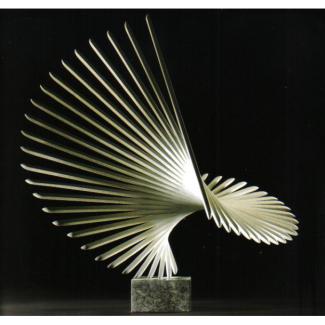 Charlotte Mayer FRSS Spindrift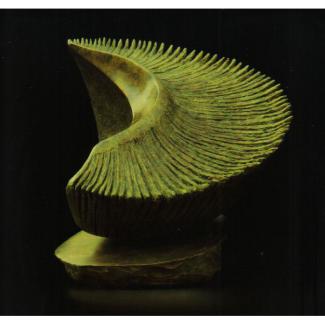 Charlotte Mayer FRSS Autumn
Charlotte Mayer FRSS Moon Dance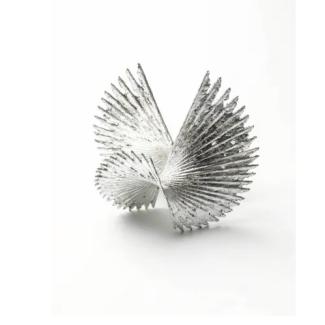 Charlotte Mayer FRSS Rondel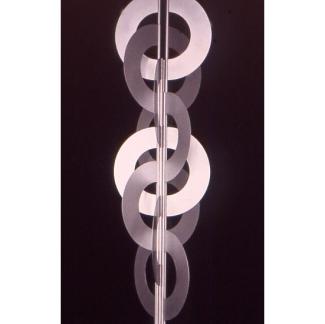 Charlotte Mayer FRSS Tree of Life, The Abbey National Building Society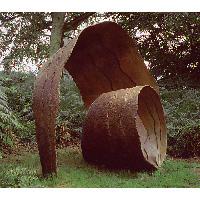 Charlotte Mayer FRSS Moon Arch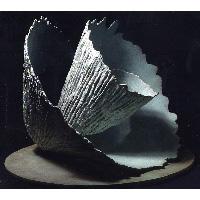 Charlotte Mayer FRSS Sea Scarf