The Royal Society of Sculptors has grown substantially since it was first founded in 1905, going from a membership of 51 to almost 700. The majority of our members make a lifetime commitment to the Society, and we are delighted to celebrate Fellows who have been with us for 40 years! 
Clive Duncan FRSS joined the Royal Society of Sculptors in 1974 and was elected a Fellow in 1983. Clive studied at the Camberwell School of Art and later at the City & Guilds London School of Art's Sculpture School under James Butler FRBS and David McFall RA. Later Clive also joined academia, teaching from 1968 to 2000 at various institutions, including as lecturer at Heatherley School of Fine Art, Sir John Cass Faculty of Art and London Guildhall University, the City & Guilds Sculpture School and the Slade.
Reminiscing about his time with the Society, Clive wrote:
"When I was elected to the Society in 1974, I had black hair and a full black beard. Most of the male and female sculptors had white hair and the men looked like Father Christmas. I am now in that category - it seems to have come round so quickly. At the time, Michael Rizzello was the president and I produced a number of documents on health and safety as many sculpting materials and substances were and are quite hazardous. This intervention led to Tiranti producing safety recommendations for all their products pre COSHH (Control of Substances Hazardous to Health) regulations."
Below, Clive has answered some questions put together by the Society's current Vice President Almuth Tebbenhoff VPRSS.
WHO WAS THE FIRST PERSON TO ENCOURAGE YOU TO BECOME A SCULPTOR? WHAT DID THEY SEE IN YOU?
I grew up in a hill top hamlet in the Chilterns surrounded by agriculture and beech woodlands. I played the organ in a minute church, read a lot, and spent time at a local Blacksmith's workshop. Shape interested me and abandoned bits of farm machinery left in fields or on the skyline fascinated me. Without knowing what philosophy was, I was naturally interested in the values of observation and language.

At sixteen I went to the Battersea Open Air Sculpture Park in 1960 and the bisociation of making and philosophy touched a nerve. My father was an aeronautical engineer and excellent carpenter with an extraordinary mathematical mind, my mother was closer to the arts and wrote poetry when she wasn't working full time in clerical admin. Many elderly folk in my village encouraged me to study art except my father who was totally opposed.
WHO WAS YOUR MOST INFLUENTIAL TEACHER?
My art teacher at school set up the art school direction. At Camberwell School of Art, several teachers influenced me: Giacomo Baraggli, Brian Taylor and most of all, Sidney Sheppard who had studied sculpture in Paris with Aristide Maillol and Andre l' Hotte. Sidney became my mentor and close friend. James Butler RA and Willie Soukop RA were equally encouraging and I became Butler's assistant for some of his larger works. Michael Marriott FRSS was the Sculpture Technician at Camberwell with considerable skills in metals, bronze casting, GRP and was highly influential.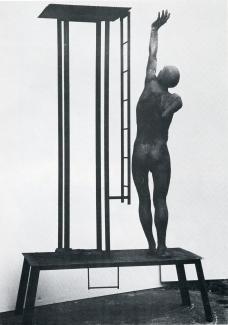 Clive Duncan's Cenopath
WERE YOUR PARENTS ARTISTS / ARTISTIC?
My grandfather was a painter who moved across to commercial art. His father was a wood carver. My relative by marriage was Gilbert Ledward RA former president of the Royal Society of Sculptors. He died the same year I decided to go to art school. I never met him but I think his war memorial to the Monmouth Regiment is the finest of its kind.
My father's engineering skills were immensely influential and although he was anti my art training, I continue to retrieve so much from his knowledge and demonstrations. My mother was by far the instigator of my art training financially until I was awarded a full grant, her encouragement continued until her death.
HOW DID THE ART MARKET RESPOND TO YOUR WORK IN THE EARLY DAYS? DID YOU GET PICKED UP BY A GALLERY EARLY ON?
Twelve of my sculptures were exhibited at the Royal Academy Summer Exhibitions over the years and several attracted press attention. Two galleries sold work for me in the early days but as my work took on scale and controversial subject matter the shows became more museum-oriented. My first one-person-show filled the London Guildhall Gallery.
WHAT WAS YOUR BIGGEST OBSTACLE AND HOW DID YOU OVERCOME IT?
Balancing full time art school as a principal lecturer with my own work. My enjoyment of teaching never waned. I was privileged having taught some very fine artists however, the academic year was exhausting with continual updating and changes to course documentation and administration.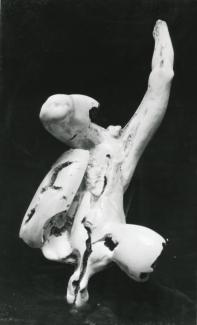 Clive Duncan's Icarus
WERE YOU PART OF A PARTICULAR GROUP OF ARTISTS?
Apart from art school colleagues, most of my work has been made in isolation.
WHAT WAS YOUR BIGGEST HELP?
Knowing the history of art and seeing the most ancient works as new and fresh.
DID YOU DREAM BIG OR DID "BIG" SCARE YOU?
My sculpture Black Queen White Knight at the RA was 12 feet by 10 feet and was envisaged as a moment in time during a modern ballet. Almost everything was set up, dancers and film makers but the Arts Council chose not to make an offering. I still have dreams of large scale works based on classical mythology but I believe monumental sculpture is not reliant on size.
WHAT IS THE BEST THING A CRITIC HAS SAID ABOUT YOU?
The comments I remember most were not that complimentary. Large works of mine were seen by some as subversive. This uneasiness in interpretation was perfectly acceptable to me. I was dealing with subject matter which had been slightly taboo but I had no wish to shock but wanted to open up shutters to let the light in on the human and the fetishistic.
WHAT IS YOUR FAVOURITE COMMISSION / SCULPTURE YOU HAVE WORKED ON?
The bronze figure of a child for the Child Bereavement Trust - now Charity, placed in High Wycombe and unveiled by the Bishop of Buckingham.
IS THERE ANYTHING ELSE YOU WOULD LIKE TO ADD?
After 40 years of teaching art students, it has been an extraordinary privilege to have had a hand in their personal journeys. The sheer multiplicity of their works, motivation and directions has allowed me to expand the breadth of my own knowledge and practise. My lectures still inspire I hope and will continue my unbroken oral tradition as a teacher.
Clive Owen's Watch Tower
"I knew John Piper and as a first year student in 1963 found myself in the stained glass studio of Patrick Reyntiens during the making of the huge Piper Baptistery Window for Coventry Cathedral.

I always had great admiration for [John's wife] Myfanwy Piper who in the 1930s Paris edited 'Axis' magazine. She worked with Mondrian, Kandinsky and even chatted with Brancusi in his studio. My portrait of Myfanwy was made from life in Piper's studio and is about to be acquired by the National Portrait Gallery."
Clive Duncan FRSS, September 2022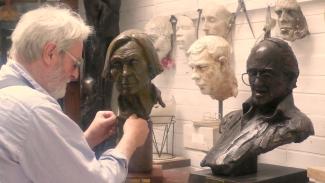 Clive Duncan FRSS working on his portrait of Myfanwy Piper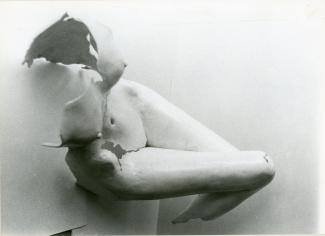 Clive Duncan's Girl Shell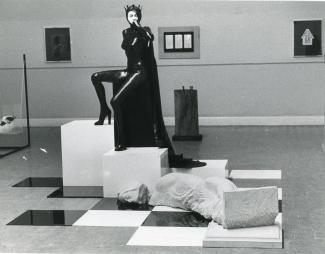 Clive Duncan's Black Queen and White Knight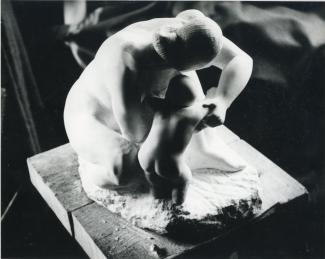 Clive Duncan's Mother and Child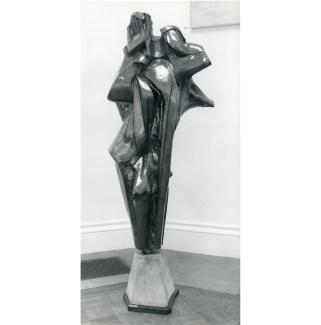 Clive Duncan's Sculpture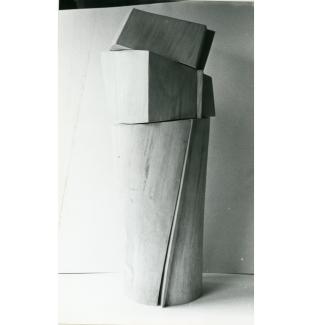 Clive Duncan's Mahogany Wedges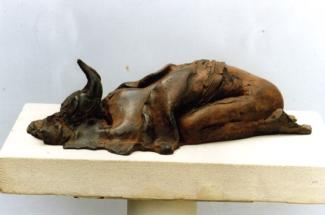 Clive Duncan's Pasiphae and the skin of the cow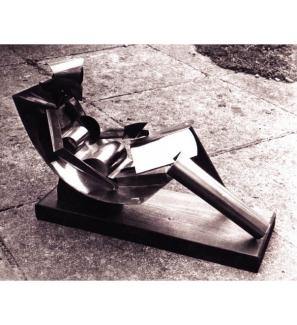 Clive Duncan's Woman Reading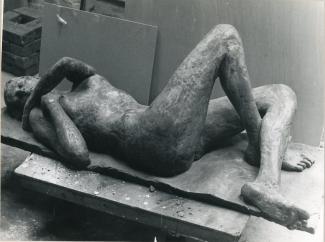 Clive Duncan's Life Figure