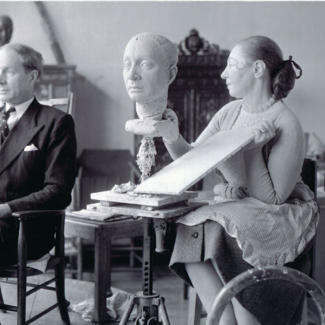 Dora Gordine FRBS (1895-1991)
Dora Gordine became an Associate member of the Society in 1938, and was made a Fellow in 1949. Gordine was born in Latvia, and lived in Estonia, Paris and London. She settled with her second husband Richard Hare in Kingston at her home and studio Dorich House, designed by Gordine herself. Between the wars, Gordine became well-known for her non-European 'exotic' portrait heads such as Javanese Head (1930-31) and Chinese Head (1930-32) as well as striking figurative pieces such as Walking Male Torso (1927-28) and Standing Female Nude (Dame Edith Evans) (1938). Gordine also participated in the 1951 Festival of Britain, as well as receiving public commissions into the 1960s such as her dynamic relief Power (1960) for the Esso Petroleum Refinery at Milford Haven.
The Society holds a large amount of material on Dora Gordine, including many photographs of her work.