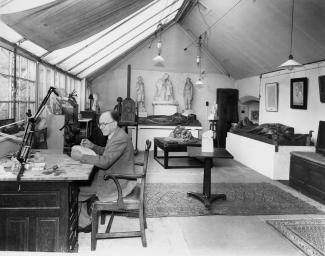 A new project
Cecil Thomas: Soldier Sculptor is a National Lottery Heritage Funded project which will focus on the personal wartime experiences of Cecil Thomas FRBS (1885-1976), one of the Society's most prestigious members whose papers, including his unpublished autobiography, are held in our archives, and whose previous home and studio, Dora House, were bequeathed by Thomas to the Society in 1976. 
The project archivist, Alice O' Hanlon has been re-housing Cecil Thomas's autobiography, and other archive materials relating to his career as an engraver and sculptor, in conservation-quality materials to ensure that these are protected long into the future. Volunteers have been assisting with this work, alongside transcribing sections of Cecil's unpublished autobiography, which will be shared in its full form towards the end of the project in September. Several chapters of the text describe in great detail Thomas's experiences of military training, serving as a Lieutenant and Intelligence Officer in Belgium, and his post-war recovery and career in memorial sculpture. 
It is while recovering from his injuries in hospital that Cecil meets the young soldier Alfred Forster, 'the handsome youth whose tragic death inspired my first important work of sculpture'. Forster sadly dies from his wounds, and subsequently his parents, Lord and Lady Forster, commission Cecil to produce a memorial in honour of Alfred. Cecil writes: 'I determined with God's help, I would make him live in death, that the qualities of greatness that belonged to him, might go down the ages, and perhaps help to show mankind the uncounted cost of their foolishness. Perhaps bring consolation to the many who were bereaved; by trying to convey in bronze the immortality of the soul.'
As part of the project, volunteers have also been transcribing the Society's Annual Reports from the post-First World War years, which provide a fascinating insight into its involvement with the commissioning of war memorials by the government, local councils and members of the public. Alice has also been preparing material and carrying out research that will be used as part of a series of workshops, led by the Society's Learning and Participation Officer, with a local war veteran charity. The workshops will culminate in September with an exhibition of artwork and a commissioned film, alongside a special evening of talks.