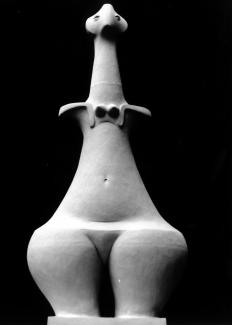 Barbara Tribe FRBS (1913 - 2000)
Pioneering Women is a research project designed to shine a spotlight on the lives, careers and legacies of the talented and extraordinary women at the heart of the Royal Society of Sculptors.
Each month in our Shape & Form enewsletter, our Research Curator, Rosamund Lily West will share with you something from the archive, and introduce you to some of the women who will inform the research project uncovering the lives, careers and legacies of women sculptors in the early to mid-twentieth century.
This month we focus on Barbara Tribe FRBS.
Sydney-born Barbara Tribe FRBS (1913-2000) settled in Penzance and made Cornwall her home. She was a long-standing member of the St Ives Society of Artists and lectured at Penzance School of Art. Tribe enjoyed a long and successful career, proclaiming "an artist never retires". She practised and exhibited widely throughout her life, including producing portrait sculptures of Australian servicemen during the Second World War, and entering her sculpture "Embryo" into the Unknown Political Prisoner exhibition in 1953. In 1998, on winning the Society of Portrait Sculptors Jean Masson Davidson silver medal, she was described as the 'Doyenne of Cornish sculptors'. Her work and career embraced different styles: including naturalistic children and babies; abstract totemic pieces; organic and, often, erotic forms.
Image: Fertility Goddess, 1979-80 by Barbara Tribe
If you'd like to subscribe to our monthly enewsletter, Shape & Form, please click here.