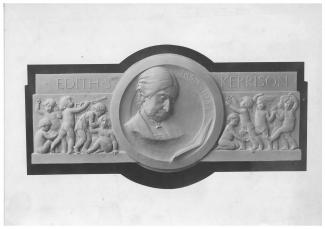 Christine Gregory FRBS (1879 - 1963)
Pioneering Women is a research project designed to shine a spotlight on the lives, careers and legacies of the talented and extraordinary women at the heart of the Royal Society of Sculptors.
Each month in our Shape & Form enewsletter, our Research Curator, Rosamund Lily West will share with you something from the archive, and introduce you to some of the women who will inform the research project uncovering the lives, careers and legacies of women sculptors in the early to mid-twentieth century.
This month we focus on Christine Gregory FRBS.
Christine Gregory FRBS (1879-1963) was, in 1922, the earliest elected female member of the Society, alongside Feodora Gleichen (posthumously) and her friend Flora Kendrick FRBS. Whilst working as a teacher at Hammersmith School of Arts and Crafts, she exhibited her work widely, including at the Paris Salon and the Royal Academy.
In 1945, Gregory won the Lady Feodora Gleichen Fund prize of £100 for her piece 'A Child of Africa'. She became a Fellow of the Society in 1948. Throughout her career, she remained an active member of the Society, and features in the Society's minutes, including in 1953 when she raised the issue of public money being spent unprofitably on ultra-modern sculpture. Here is a piece of her own public art, in Newham, 'Monument to Edith Kerrison', 1936. Kerrison was the first woman councillor for West Ham, and an advocate for the welfare of women and children.