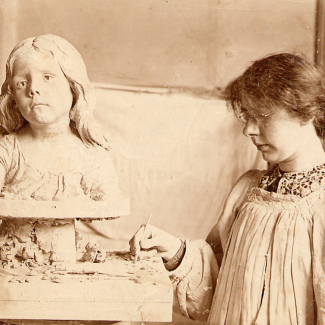 Christine Gregory FRBS (1879 - 1963)
Christine Gregory FRBS (1879-1963) was one of the earliest female members of the Society, elected in 1922 alongside Feodora Gleichen (posthumously) and her friend Flora Kendrick FRBS. Gregory exhibited her work widely, including at the Paris Salon and the Royal Academy, whilst also working as a teacher at Hammersmith School of Arts and Crafts.
In 1945 Gregory won the Lady Feodora Gleichen Fund prize of £100 for her piece A Child of Africa (below), currently in the collection at Burgh House. She became a Fellow of the Society in 1948. Throughout her career, she remained an active member of the Society, and features in the Society's minutes, including in 1953 when she raised the issue of public money being spent unprofitably on ultra-modern sculpture.