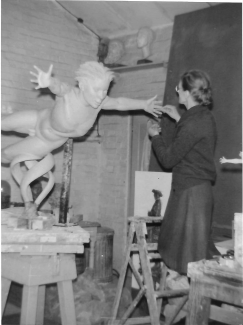 Our new archive research project
My name is Rosamund and I am the new Research Curator here at the Society working on the 'Pioneering Women' research project, funded by the Paul Mellon Centre. Each month in our Shape & Form enewsletter, I would like to share with you something from the archive, and introduce you to some of the women who will inform the research project uncovering the lives, careers and legacies of women sculptors in the early to mid-twentieth century.
Rose Gwynneth Holt FRBS (1909-1995) was married to the sculptor T.B. Huxley-Jones and is shown here working on West Wind, a replacement for a figure from the Joy of Life fountain in Hyde Park sculpted by her husband, and damaged after his death. In a long and productive career, she completed commissions for the chapel of the East Mission in Stepney and Chelmsford Cathedral. In 1948, Holt was awarded the Feodora Gleichen award for 'outstanding work by a woman sculptor' for her Mother and Child, exhibited at the Royal Academy of Arts.
If you'd like to subscribe to our monthly enewsletter, Shape & Form, please click here.
Image: Rose Gwynneth Holt FRBS (1909-1995) working on West Wind in her studio