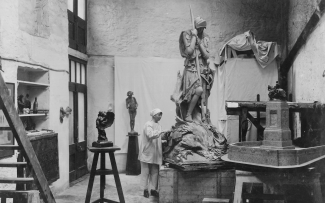 Phyllida Shaw unveils the life and work of a little known sculptor
'Small of stature and delicate in appearance, with visionary eyes, she acquired amid the rigours of her student life a power of endurance which supported her in the heaviest work, and no obstacles deterred her undaunted spirit from carrying out an idea.' This description of Gertrude Alice Meredith Williams ARBS, published in the Times after her death in March 1934, was referencing the monumental works for which she had become known after the First World War. These included St George and the Dragon for Queenstown War Memorial in South Africa (pictured), The Spirit of the Crusaders for Paisley and twelve pieces for the Scottish National War Memorial at Edinburgh Castle.
The Scotsman cited her 'undoubted genius', which was equally evident in her smaller-scale domestic and ecclesiastical work. Born in Liverpool in 1877, Alice trained at Liverpool School of Architecture and Applied Art. A student exhibition at the Walker Art Gallery, in 1900, featured more than thirty pieces by her, in different media and won her a £60 scholarship from the City Council. This took her to Paris, where she spent five years studying, and making work until, in 1906, she married fellow artist Morris Meredith Williams and settled in Edinburgh.

In 2017 the History Press published An Artist's War. The art and letters of Morris & Alice Meredith Williams, by Phyllida Shaw. Based on her uncle Morris's wartime sketchbooks and his letters to Alice, the book introduced these two artists to a new audience. Now in response to readers' interest in Alice, Shaw has completed a second book, Undaunted Spirit. The art and craft of Gertrude Alice Meredith Williams.