Multi-faceted artist with a lasting legacy through the Gilbert Bayes Award for emerging sculptors
Born into a family of artists in London, Bayes was fascinated with sculpture from a young age. His talent was recognised early on: he first exhibited at the Royal Academy aged 17. With links to Art Deco, Art Nouveau, the Arts & Crafts movement and New Sculpture, Bayes went on to have a prolific career. His  work ranged in scale from medals, trophies and designs for Royal Doulton to architectural sculpture, ornamental work and statues. He served as the President of the Royal Society of Sculptors from 1939 to 1944. And today his legacy continues to support the artistic community with the Gilbert Bayes Award for emerging sculptors which is funded by the charitable trust in his name.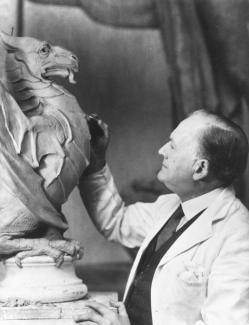 Throughout his career Bayes was fascinated by colour and sculpture for decorative purposes. One of his most familiar works is the richly ornamented Queen of Time at Selfridges on London's Oxford Street. Elsewhere in the capital, there are numerous locations to see his craftsmanship - including the lions' head mooring rings around South Bank, the Portland stone bas relief at the entrance to Lord's Cricket Ground and the frieze on the Shaftesbury Avenue Odeon cinema. There is also the Gilbert Bayes Sculpture Gallery at the Victoria and Albert Museum, now home to the 50ft-long frieze Pottery through the Ages, originally commissioned by Royal Doulton. He was also one of 21 sculptors engaged to carry out work on the southern facade of the museum and executed the portrait statues of Sir William Chambers and Sir Charles Barry.
Other highlights in his career include The Great Seal of King George V, the statue of Joseph Priestly on Sir John James Burnet's Institute of Chemistry in London and the Seagrave Trophy. After the Great War he sculpted war memorials at Holme Lacey in Herefordshire, at his parent's hometown of Todmorden, Yorkshire and at Aldeburgh, Suffolk. 
Bayes was elected Member of the Art Workers Guild in 1896 and  Honorary Member of the Royal Institute of Painters in Watercolours in 1918. He was Master of the Art Workers Guild 1925 to 26 and wrote Modelling for Sculpture: A Book for the Beginner. He was also Vice President of the Incorporated Association of Architects. Bayes' home at 4 Greville Place, St John's Wood bears a blue plaque.
Bayes' legacy includes the Gilbert Bayes Award for early career sculptors, given annually by the Society to a small group of outstandingly talented sculptors.