by First Plinth: Public Art Award winner 2019 Fabio Lattanzi Antinori
Fabio Lattanzi Antinori's sculpture The Cost of Your Words has been installed at the Queen Elizabeth Olympic Park in Stratford as part of the prestigious First Plinth Award presented by The Royal Society of Sculptors.

The First Plinth: Public Art Award is designed to offer sculptors an opportunity to extend their practice into public art commissions. Lattanzi Antinori was chosen for this award in 2019 and granted £10,000 to produce a large-scale sculpture for the sculpture terrace at Dora House before moving to a second site at Queen Elizabeth Olympic Park. This is the first time The Royal Society of Sculptors has partnered with the Queen Elizabeth Olympic Park to support the First Plinth Award and Lattanzi Antinori's installation will be in place at this site for one year.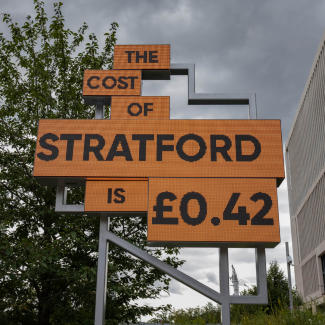 The Cost of Your Words explores how our online choices are influenced and curated by personalised algorithms, and invites the viewer to reflect on the kind of freedom we experience when talking about free access to information. The sculpture, an assemblage of LED displays on a steel frame, has had an account set up with Google Adwords, a service that allows customers to improve their online visibility. The cost per click of the keywords appears on the screens, strategically chosen as part of its own digital campaign to advertise its presence on search engines. The keywords are site specific and relate to the location where the artwork is installed - in this case it's the Olympic Park and the surrounding area of Stratford.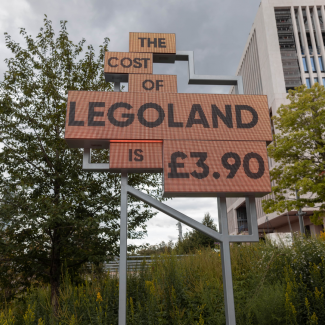 Working across a range of mediums including sculpture, print and interactive installations, Lattanzi Antinori's work attempts to provide an understanding of the process by which notions of power, belief and the perception of reality are being shaped and shared in the society at large. With a particular interest in the narratives of data and on the agency of digital technology, many of Lattanzi Antinori's works are data driven, such as Ad Keywords (2020) which was on show during the Frieze Sculpture 2020 exhibition at Regent's Park
Mark Camley, Executive Director of Park Operations at the London Legacy Development Corporation said: "As we see the new cultural quarter, East Bank, developing in the Park, it is wonderful to work with the Royal Society's initiative and bring this new sculpture to east London."
This biennial award is open to any artist working in three dimensions, providing a unique and rare opportunity for the winner to build a track record in the competitive arena of public art. The creation of the winning work is supported by the award, with the winner receiving mentoring from a team of experienced professionals – engineers, consultants and artists – to ensure the concept is delivered to the exacting standards required to be installed in public spaces.
Fabio Lattanzi Antinori says, "The First Plinth Award has been a wonderful opportunity and I am truly grateful for having been selected. It allowed me to start working in the public realm for the first time, in the context of a distinguished institution and with the support of a network of very supportive and knowledgeable professionals."
Caroline Worthington, Director of the Royal Society of Sculptors, says: "The Cost of Your Words has proved to be one of the most thought provoking, eye-catching and popular works shown on our sculpture terrace in recent times. I am delighted then that it will find a new and wider audience at the Olympic Park through our new partnership with them."
First Plinth: Public Art Award 2021
Sculptor Polly Morgan has recently been announced as the 2021 winner. She will debut her new commission in 2022. Polly Morgan (b.1980) is a British artist living and working in London who has exhibited widely in the UK and internationally and whose work can be found in both public and private collections. Self-taught with no formal education in art, Morgan works in taxidermy, concrete and polyurethane. She is interested in creating deceptions, with sculptural facsimiles made from painted casts and skin, as a way of exploring false narratives in our increasingly polarised and digitised society.

Polly Morgan, 2021 winner of the First Plinth Award, says: "This will be my first public sculpture and I am excited to be able to widely share the results of new painting techniques I have been developing in my work. This has particular poignance for me as I was forced to leave my first studio to make way for the Queen Elizabeth Olympic Park development in 2006, and to be returning my work to the site where it all began feels a fitting resolution."