Caroline Worthington, Director
Caroline has worked with artists throughout her career as a curator. She brings a wealth of experience gained while leading two independent, non-profit organisations. As Chief Executive of Bexley Heritage Trust for six years, she ran two historic houses and introduced a contemporary art programme, featuring the work of artists including Gavin Turk, Laura Ford, and Joana Vasconcelos among others. Prior to that she was the Director of the Florence Nightingale Museum on London's South Bank, where she raised funds and oversaw a complete redesign and re-launch in 2010. 
Caroline became Vice Chair of the Association of Independent Museums (AIM) in 2020 and a Trustee of Pitzhanger Manor & Gallery Trust in January 2021.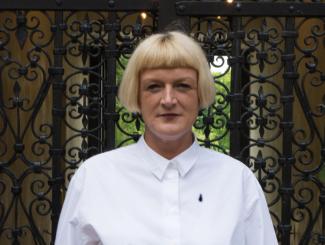 Lorraine Pajak, Awards and Events Manager
Lorraine has a background in commercial galleries, museums and arts membership organisations. Her experience includes managing an art libraries society based at the National Art Library, Victoria & Albert Museum. Lorraine holds a BA (Hons) in History and Theory of Art and an MA in Arts Policy and Management.
Lorraine is Vice Chair of the Belvedere Community Centre.
Peter Boyse, Head of Finance 
Peter has a background in financial accounting for small charities and trading companies. He also currently works for RER Megacorp, an independent musician run record company active from 1978.
He has previously worked for the Florence Nightingale Museum, Musicworks Resouce Centre and the National Family & Parenting Institute
Works Wed/Fri
The Society is also supported by a fantastic team of volunteers.