The Royal Society of Sculptors champions sculpture and the artists who create it. We are committed to making the full range of contemporary practice accessible to all and also to promoting high professional and creative standards. 
As such, our work is overseen by our Board, which elects the majority of its members from our community of artists. The remaining members are drawn from other professions and contribute expertise across a range of fields.
Chaired by the President, the Board comprises the Vice President, the Treasurer and up to eleven others, all elected for a three-year term.
The Board is responsible for defining the Society's strategic vision, policy, procedures and programme. The sculptor members of the Board also review applications to the Society and select new members.
The Society is committed to equality and diversity and has appointed Alexandra Harley MRSS as Board champion for diversity.
President - Clare Burnett PRSS
Clare Burnett is a site-responsive artist based in London.  She makes pared-down, abstract artworks which encourage people to engage visually and conceptually with their surroundings. Previous projects include installations of works in West Norwood and Brompton Cemeteries, street works and paintings in Le Corbusier's Unite d'Habitation, as well as being artist-in-residence at Leighton House Museum where she had a major solo show.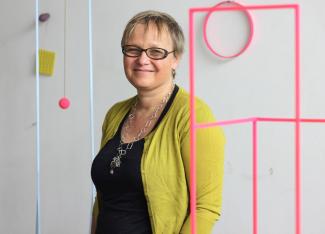 Vice President - Almuth Tebbenhoff VPRSS
Almuth was born in Germany in 1949, came to England in 1966 as a student exchange and stayed. She studied ceramics at Sir John Cass School of Art 1972-5, made pots and surreal clay sculpture. In 1981 Almuth set up a studio in Wandsworth and expanded her practice to include metal fabrication. For a while she worked very minimalistic then developed her own style.
Since 1980 Almuth has exhibited, lectured, tutored, experimented, developed and learnt to carve marble which is very grown up. Over four decades she made many sculptures which are in collections worldwide.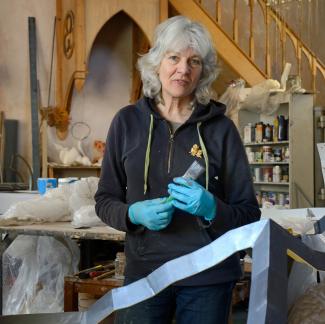 Board Members
Katherine Ashton
Ros Burgin MRSS
Laura Ford FRSS
Alexandra Harley MRSS
Rob Olins FRSS
Bill Price
Holly Rowan Hesson MRSS
Edwina Sassoon
Amy Stephens FRSS
Richard Stone FRSS
James Varley (Treasurer)
Gordon Watson