The Royal Society of Sculptors champions sculpture and the artists who create it. We are committed to making the full range of contemporary practice accessible to all and also to promoting high professional and creative standards. 
As such, our work is overseen by our Board, which elects the majority of its members from our community of artists. The remaining members are drawn from other professions and contribute expertise across a range of fields.
Chaired by the President, the Board comprises the Vice President, the Treasurer and up to eleven others, all elected for a three-year term.
The Board is responsible for defining the Society's strategic vision, policy, procedures and programme. The sculptor members of the Board also review applications to the Society and select new members.
The Society is committed to equality and diversity and has appointed Nicola Anthony MRSS as Board champion for diversity.
President - Clare Burnett PRSS
Clare Burnett is a British artist, raised in France and Belgium and working in London. Her work is a process-led response to the issues, objects and spaces around her. She scavenges from her surroundings; plays with, reconfigures and transforms her 'finds' in the studio; then arranges them to create interactions with each other and with the space beyond. 

Clare studied Architecture and Social and Political Studies at Cambridge University and Fine Art at the Byam Shaw School of Art. Solo and group shows include Leighton House Museum; William Benington Gallery; the University of Leeds; Contemporary Sculpture Fulmer; the Royal Academy; the National Gallery; the Jerwood Space; the RIBA in the UK; Sanyi Wood Sculpture Museum in Taiwan and Brooke Benington and Studio Block M74 in Mexico. She has completed site-specific installations in spaces such as Le Corbusier's Unite d'Habitation, France; Brompton and Norwood Cemeteries and Bishopsgate Square, London. This year her first public sculpture was installed in China.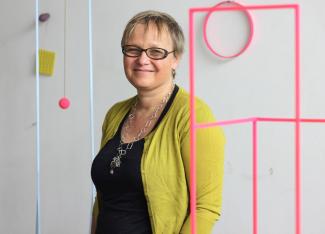 Vice President - Almuth Tebbenhoff VPRSS
Almuth was born in Germany in 1949, came to England in 1966 as a student exchange and stayed. She studied ceramics at Sir John Cass School of Art 1972-5, made pots and surreal clay sculpture. In 1981 Almuth set up a studio in Wandsworth and expanded her practice to include metal fabrication. For a while she worked very minimalistic then developed her own style.
Since 1980 Almuth has exhibited, lectured, tutored, experimented, developed and learnt to carve marble which is very grown up. Over four decades she made many sculptures which are in collections worldwide.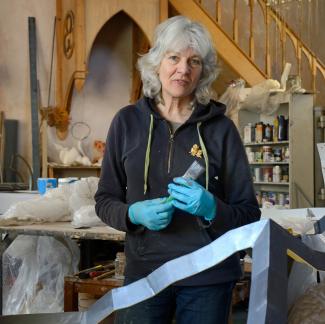 Board Members
Nicola Anthony MRSS
Katherine Ashton
Mark Burch (treasurer) 
Laura Ford FRSS
Simon Hitchens FRSS
Rob Olins FRSS
Bill Price
Mark Richards FRSS
Edwina Sassoon
Amy Stephens FRSS
Gordon Watson