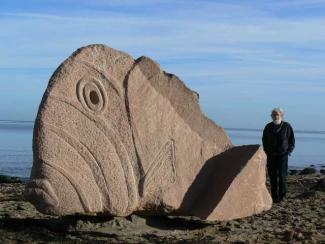 Ronald Rae FRSS is a retired Fellow of the Royal Society of Sculptors that he joined in 1996. Ronald is an Edinburgh-based sculptor who hand-carves large granite boulders into figurative sculptures inspired by biblical themes and animals.
Born in Ayr in 1946 Ronald Rae began carving aged fifteen. Having staged several solo exhibitions in Sheffield, Milton Keynes, Regents Park, London, The Yorkshire Sculpture Park, Holyrood Park, Edinburgh and currently at The Falkirk Wheel, Rae now has over fifty outdoor granite sculptures in public and private collections throughout the UK.

Rae's early sculptures featured biblical themes such as The Tragic Sacrifice of Christ - Rozelle Park, Ayr, The Good Samaritan - Glenrothes unveiled by HRH The Prince of Wales, St. Francis - NTS Threave Gardens near Dumfries and the Fallen Christ - Island of Iona.

Many of Rae's animal sculptures are of endangered species for example a life-sized Wounded Elephant, the 21 feet Tyger Tyger, his 20 tonne Lion of Scotland on loan to St Andrew Square, Edinburgh and his Baby Elephant now on exhibition at Edinburgh's West End.
WEBSITE: www.ronaldrae.co.uk