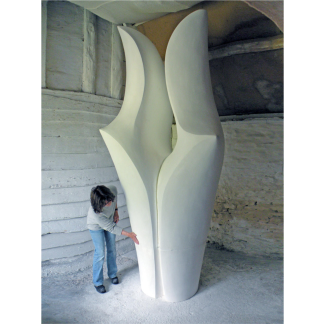 Michie is a retired member of the Royal Society of Sculptors that she joined in 2003.  An established sculptor who carved her work from wood and stone, she also produced original, mainly abstract, maquettes and models for casting in bronze or resin. Her sculptures are designed for interior settings or for landscapes and gardens. A large part of her work is created in response to commissions.
Michie (pron. Mishy) Herbert was born in New York to an English novelist father and a French mother. Moving to Europe, Michie's early years were divided between the west coast of France – where she was inspired by her mother collecting pebbles on the beach - and England where she stayed with relatives (also writers) in St. Ives, Cornwall. From an early age she played in the studios of their friend Barbara Hepworth who gave Michie simple sketching and sculpting tasks. In the 1960's she studied painting at St Martin's College of Art in London. Later she studied sculpture at the John Cass School at Whitechapel, London.
More recently, Michie has worked from a restored farm building set in the shadow of a large monastic barn owned by the National Trust in West Oxfordshire.
WEBSITE: michieherbert.co.uk