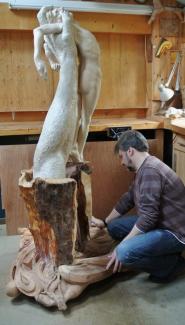 Michael Painter MRSS is a retired member of the Royal Society of Sculptors that he joined in 1994.
Before establishing an independent practice in January 2003, Michael worked for Linford Bridgeman, an architectural and ecclesiastical company specialising in the traditional crafts of wood carving. He achieved the position of Master Carver and Head Of Department. He studied at the European School for craftsmen at San Servolo, Venice.
In 1988 he became a fellow of the William Morris Fellowship which is organised by the Society for the Protection of Ancient Buildings (S.P.A.B.) and in 1991 presented his carved bust of William Morris to Her Royal Highness the Queen Mother who was patron of the Fellowship. He has worked on Westminster Abbey, St Paul's Cathedral, the Palace of Westminster and many National Trust buildings. During 1997 Michael supervised a team of carvers to work on the fire damage at Windsor Castle. His work was acknowledged by Her Majesty the Queen with a personal letter of thanks and a specially commissioned medal. In February 2001 Michael was elected into the Worshipful Guild of Smiths who have been in existence since 1601.
Michael has been recognised as one of Britain's most experienced and sought after Master Carvers for his attention to detail & outstanding skills as a craftsman as well as his ability to bring character  and depth of emotion to his work.
Michael has been teaching wood and stone carving for over 40 years and holds wood carving courses at his studio in Austrey, Warwickshire.
WEBSITE: www.mikepainter.co.uk