Inspired by the French style, his nudes and portraits combine realism and grace
William Robert Colton produced many sculptures of female nudes, lovers and children as well as executing a number of war memorial commissions. Equally in demand as a portrait artist, he was highly skilled at expressing the human form.
Art critic and historian, A.J. Baldry said of Colton, "Few of our sculptors rival him in their treatment of flesh textures or in feeling for refinements of surface form; fewer still can express in so skilful a manner the structure of the human body or give so intimate a suggestion of the underlying modellings of bone and muscle.'  
Born in Paris, Colton studied sculpture under William Silver Frith (1850-1924), pupil and successor of Jules Dalou, at the Lambeth School of Art. He entered the Royal Academy Schools in 1889 and also furthered his studies in Paris. At the age of 20 he commenced his career as a sculptor, initially establishing his studio at St John's Wood in London before moving to Kensington.
Heavily indebted to the French style, The Girdle was bought for the nation when first shown at the Royal Academy in 1898. It would become Colton's most well-known work. In a similar vein, he sculpted The Image Finder (1899), The Crown of Love (1900), The Wavelet (1901) and The Spring Tide of Life (1902).
Meanwhile Colton received a series of private commissions from the Maharajah of Mysore, including at least four busts and statues of him in different media. Throughout his career, Colton continued to secure work from India.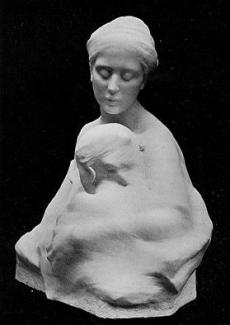 In the period 1905 to 1920, Colton exhibited regularly at the Royal Academy and among his bronze busts shown there were: HH The Maharajah of Mysore (1905); Sir Sheshadri Iyer, Dewan of Mysore (1907); Field Marshal Earl Roberts (1915); Lieutenant Colonel Sir George Roos Keppel (1916); Marjorie Brassey (1917); and Diana (1917). His bronze bust of the elephant hunter Captain Frederick Courteney Selous (1919) may be seen in the Natural History Museum, South Kensington, London.
Meanwhile, his war memorial commissions include  the Memorial to Sir Richard and George Tangye (1916) in Birmingham City Art Gallery and a bronze Memorial to Boyd and Claud Alexander in Cranbrook Parish Church. In 1908 Colton sculpted the Worcester Boer War Memorial and he was also responsible for  the Royal Artillery Boer War Memorial on the corner of St James's Park.
Colton was elected ARA in 1903 and served as Professor of Sculpture at the Royal Academy from 1907 to1911. In the period 1911 to 12 he was Visitor in Sculpture at the Royal College of Art and he went on to become a Royal Academician in 1919. He was also a Member of the Standing Committee of Advice for Education in Art; Board of Education and a Principal Examiner for the Board of Education in Modelling and Sculpture.
After a distinguished career as both sculptor and teacher, Colton died on 13 November 1921 at the relatively young age of 53. At the time of his death, he was serving as President of the Royal Society of Sculptors.