SCOTTISH SCULPTOR FAMED FOR MONUMENTAL STYLISED SCULPTURES & SIMPLIFIED PORTRAITS
Dick began his career as an apprentice stone mason in his native Glasgow, rising to the position of Sculptor in Ordinary for Scotland to King George IV and later Queen Elizabeth II. President of the Royal Society of Sculptors from 1933 to 1938, his works of note include the Kitchener Memorial Chapel in St Paul's Cathedral (1922-5), bas-reliefs for Selfridges, London (1928) and the RAF Memorial on London's Victoria Embankment (1923).
Whilst learning the trade of stone masonry, Dick attended evening classes at the Glasgow School of Art. Aged 14, he worked on external carvings for Kelvingrove Art Gallery & Museum, under the supervision of George Frampton PPRSS. With his apprenticeship complete, he continued his studies at Glasgow and then at the South London Technical School of Art, where he also worked as studio assistant to sculptor Edwin Whitney-Smith. He first exhibited at the Royal Academy in 1908.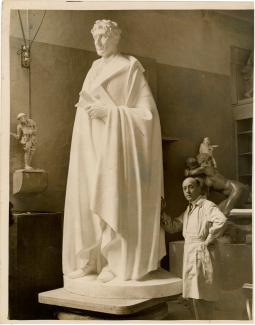 During the Great War he saw active service with the British Army in both France and Palestine. Feeling a strong urge to sculpt, he made work with whatever materials he had to hand, including chalk from the trenches. On his return, he received significant  commissions for war memorials which raised his profile. His memorials include those at Rickmansworth and Bushey, the lion on the Menin Gate in Ypres and the eagle atop Blomfield's pylon of the RAF Memorial on Victoria Embankment as well as the Kitchener chapel.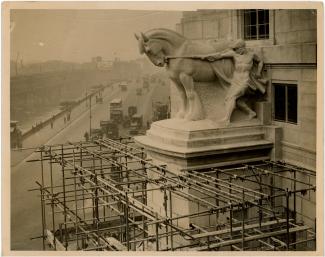 In 1928, Dick became a Royal Academician and was also appointed a member of the Royal Fine Art Commission. His prolific output included many portraits, including the statue of Sir John Soane for the Bank of England; the portrait busts of Sir Reginald Blomfield and Lord Duveen in the National Portrait Gallery;  the Viscount Leverhulme Memorial (1930) at Port Sunlight, Cheshire; and the bronze portrait statue of King George V for the Howard Davis Park, Jersey. He also sculpted the bust of Canon Alexander in St Paul's Cathedral, London;  the large stone equestrian groups on Unilever House, London Blackfriars;  and the equestrian statue of Lady Godiva (1949) in Coventry. Meanwhile, his Boy with Frog fountain (1936) stands in Regent's Park, London
Dick received commissions from around the world, his statue of King George V (1953) stands in Parliament Square, Canberra whilst his bust of Viscount Bryce (1922) is held at the Senate, Washington. His bust of Earl Chatham (1922) was gifted to the City of Pittsburg by the City of London.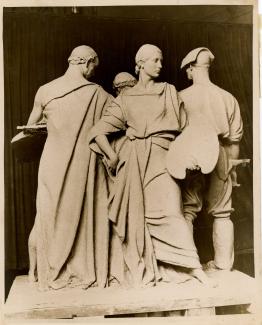 He sculpted the tombs of King George V and Queen Mary in St George's Chapel, Windsor as well as their memorials and that of King George VI in Sandringham Church. He produced portrait busts in bronze of George VI (1942), Churchill (1943), Queen Elizabeth (exhibited at the Royal Academy 1946) and Princess Elizabeth (1947). 
Alongside his career, Dick served on various committees including his role as trustee of the Tate Gallery 1934 to 1941, trustee of the Royal Academy and a member of the Royal Mint Advisory Committee. He was also an active member, later Fellow, of the Royal Society of Sculptors, taking on the position of President from 1933 to 1938. He was presented with the Albert Medal of the Royal Society of Arts by Princess Elizabeth in 1948. Married with three children, he died on 1 October 1961.