Establishment sculptor and first president of Royal Society of Sculptors
Brock was a prolific sculptor of public monuments and statuary, associated with the New Sculpture movement, and best known for the Queen Victoria Memorial which stands in front of Buckingham Palace. Brock produced a total of seven statues of her majesty as well as designing the portrait head for the Royal Mint in 1893. He was one of the founding members of the Royal Society of Sculptors and was elected as our first President in 1905. He took up the same position once again during the war years, 1914 to 1919.
Born in Worcester and apprenticed to the Worcester Royal Porcelain Works, he moved to London in 1867, aged nineteen, to become apprentice to the sculptor John Henry Foley. He entered  the Royal Academy Schools the following year, winning  the RA Gold Medal in 1869. When Foley suddenly died in 1874, Brock took over his studio and completed a number of his commissions, including the bronze of Prince Albert, part of the Albert Memorial in Kensington Gardens, and the monument to Daniel O'Connell in Dublin. These achievements secured his reputation and he went on to become a leading sculptor of portrait statue monuments.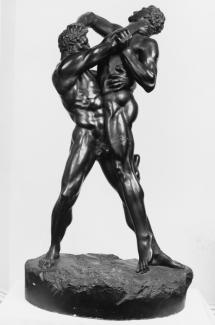 Brock's output was extensive and includes the statue of the imperial meddler Sir Henry Bartle Frere and the founder of the Sunday School Movement Robert Raikes (1889), both in Victoria Embankment Gardens, London; the Tomb of Lord Leighton in St Paul's Cathedral (1900) and the statue of the actor Sir Henry Irving on Charing Cross Road, London. His Captain Cook (1914) stands in The Mall and his Gainsborough may be seen on the staircase of the Royal Academy at Burlington House. His bronze statue of the palaeontologist Sir Richard Owen (1896) may be found in London's Natural History Museum, whilst Sir J E Millais (1904) stands in the grounds of the Tate Gallery.
Outside London his equestrian statue of the Black Prince (1902) was produced for Leeds City Square; Sir Rowland Hill is at Kidderminster, Bishop Philpott is in Worcester Cathedral, William Ewart Gladstone at St George's Hall, Liverpool and Bishop Hervey is in Wells Cathedral. Meanwhile,  his busts Joseph Lister, Michael Faraday and Frederic Leighton can all be found in the Primary Collection of the National Portrait Gallery, whilst his bust of Longfellow is in Westminster Abbey.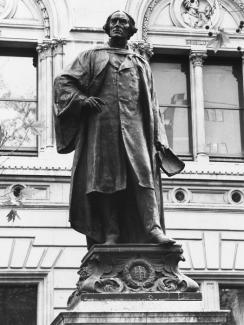 With the death of Queen Victoria in 1901 leading  to a mass outbreak of patriotism across the British Empire, Brock received a number of commissions. His marble statue Queen Victoria stands in front of the main entrance of Belfast City Hall and he executed copies for several other locations, including Bangalore (now in Mumbai), Brisbane, Capetown, Carlisle and Worcester.
Brock became an Associate of the Royal Academy in 1883, and a Member in 1891. He was knighted in 1911 and died in London on 22 August 1922.