Leading exponent of New Sculpture & original member of the Royal Society of Sculptors
The son of two prominent sculptors, Thomas Thornycroft and Mary Francis, Hamo Thornycroft started sculpting in his parents' studio where he became passionate about classical sculpture. Following studies at University College London, he entered the Royal Academy Schools in 1869 and travelled to Italy in 1871. This trip exerted enormous influence on his own style and whilst he quickly established himself as a leading sculptor, he moved from neo-classicism to the more realistic approach of New Sculpture.
Teucer (1882), held by the Tate, is a fine example of his skills, with the critic Edmund Gosse finding it 'courageously realistic'. He was awarded the Royal Society of Sculptors' gold medal in 1975 for his group A Warrior bearing a Wounded Youth from the Field of Battle and was one of the youngest artists to be elected to the Royal Academy (1888). Thornycroft later drew his subjects from contemporary life and received important public commissions, including Oliver Cromwell and Alfred the Great. He received a knighthood in 1917.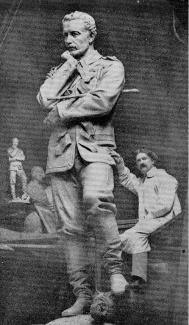 First exhibiting at the Royal Academy at the tender age of 22, Thornycroft began his career by assisting his father, executing the figures of Shakespeare, Comedy and Fame on the Poets Fountain in Park Lane which was unveiled to critical acclaim in 1875. Over the next five years, he exhibited Lot's Wife and also Artemis, which had been commissioned by the Duke of Westminster. He showed his bronze Teucer and taught sculpture in the Royal Academy Schools from 1882 to 1914.
Up until this point, Thornycroft had stuck to the convention of the antique in terms of subject, despite advancing well beyond the formula of neo-classicism with regard to vitality of form and treatment. However, he then started to move into contemporary realist subjects, as demonstrated by The Mower (1884) and A Sower (1886).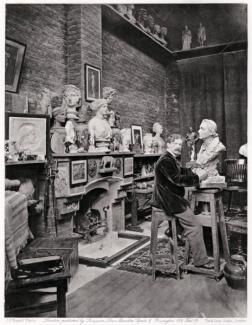 Over this lifetime, Thornycroft produced a huge body of work, including: General Gordon (1888) on Victoria Embankment, London; John Bright (1891) in Rochdale; the Bishop Harvey Goodwin monument (1895) in Carlisle Cathedral; and Oliver Cromwell (1899) in Old Palace Yard Westminster, which won him the Médaille d'Honneur at the Paris World Exhibition of 1900. He produced King Alfred (1901) in Winchester; the William Gladstone Monument (1905) at Clement Danes Church on The Strand, London; the Durban and Manchester Boer War memorials; as well as the Memorial to the Viceroyalty of Lord Curzon (1912) in Calcutta; the King Edward VIII Memorial (1915) in Karachi and the Lord Armstrong Memorial (1906) at Newcastle-upon-Tyne. His bronze effigy of Mandell Creighton, Bishop of London is in St. Paul's Cathedral, the circular bas-relief in stone of Richard Norman Shaw (1914) on the Norman Shaw Building.
Elected as an original member of the Royal Society of Sculptors in 1905, Thornycroft became a Fellow in 1923 and Vice President of the Society in 1924.