Leading avant-garde sculptor of the time, acclaimed for his mastery of many materials
Best known for his Peter Pan statue which stands in Kensington Gardens, George Frampton was a skilled sculptor of portraits, memorials and reliefs as well as a goldsmith, designer and craftsman. He was acclaimed for his mastery of many different materials, often mixing stone, metal and other components in a single piece. Experimental in his early career, with references to Art Nouveau and Symbolism, he became more traditional in later life. He was elected a Royal Academician in 1904 and knighted in 1908. He was elected President of the Royal Society of Sculptors in 1911. 
Born into a family of wood carvers and stone masons, Frampton began working with his father before moving to Paris aged 18 to work on the Hotel de Ville. He returned to London to study at the Lambeth School of Art and then the Royal Academy Schools (1881-1887). His first exhibit at the RA in 1884 was Socrates teaching the people in the Agora. He was awarded the prestigious RA Gold Medal and a travelling scholarship, returning to Paris where he studied sculpture under Antonin Mercié and painting under Pascal Adolf Jean Dagnan-Bouveret and Gustave Courtois. Over this period, he produced decorative and ornamental sculpture for clients and exhibited with the Vienna and Munich Secessions as well as Libre Esthetique. His Angel of Death gained him a medal at the Salon of 1889.
In the early 1890s,  Frampton became attracted to the arts and crafts movement as well as contemporary French symbolism.  He began to teach at the Slade School and became Joint Head of the Central School of Arts & Crafts with the architect William Richard Lethaby in 1894. That same year, he devised the sculpture schemes for the Glasgow Savings Bank, Ingram Street.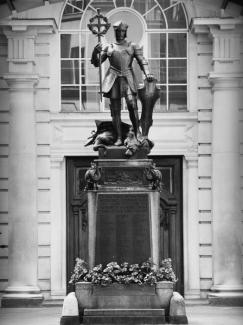 Frampton was closely associated with the art magazine The Studio,  contributing articles on subjects such as enamelling, goldsmithing and polychrome sculpture. At this time, Frampton characteristically combined different materials in one work, such as bronze and marble in Mrs. Alice Owen  (1897), the silvered bronze against copper panel with enamel disc Mother and Child (1900), and ivory and bronze adorned with jewels in his bust Lamia (1900).
Frampton's other works include the tympanum and panels at Lloyd's Registry and the statue of Queen Victoria for Newcastle. He received the commission from J.M. Barrie for the bronze Peter Pan in Kensington Gardens (1912) and he worked with Charles Rennie Mackintosh on the Sir James Fleming Memorial Plaque in 1914.  He also produced the Bury Boer War Memorial and the Radley School Boer War Memorial, featuring St. George which was a recurrent theme in his war memorials.
He was married to the painter Christabel Cockerell with whom he had one son, the painter Meredith Frampton. A memorial to Frampton can be seen in St Paul's Cathedral, showing a child holding a miniature version of his beloved Peter Pan.