Czech sculptor of large-scale abstract works, iconographic statues and portrait busts
Belsky may have sculpted portrait busts of four generations of the royal family as well as many statues of the great and the good, but he always believed that sculpture was for the pleasure of the general public. Belsky declared his intention was to  'lift the spirit'....the work is never an egotistic escapade; the experience of giving people pleasure and getting my intentions across is the greatest reward."
Creating both portraiture and abstract designs, Belsky was renowned for his painstaking technique, producing numerous working models for each sculpture. It was also his habit to seal inside each of his castings a Guinness bottle, a copy of that day's newspaper, a sixpence and a note declaring that Franta Belsky was the artist.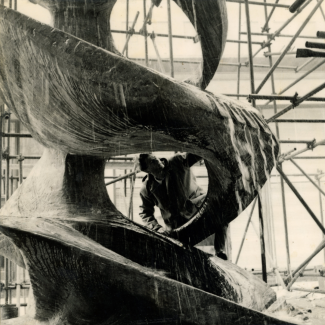 'Torsion' Fountain (1959) - Shell Building, London
Born in Brno, Czechoslovakia, he was the son of an eminent economist and was educated at the Academy of Fine Arts, Prague.  The family fled to the UK in 1938 and Belsky took up his studies at the Central School of Arts & Crafts in London and won a place at the Royal College of Arts. When WWII broke out, he enlisted with the Czech units and headed to France as a gunner. He returned to spend two terms at the Royal College of Art where he met and married Margaret Owens, who later became the newspaper cartoonist known as 'Belsky', before leaving for Normandy.
After the war, he went back to Prague and discovered that twenty-two of his relatives had been killed in the holocaust. He set up home with Margaret, studying once again and producing the city's Paratroop Memorial. He also designied a medal in honour of the Olympic athlete Emil Zatopek. The Belskys fled Czechoslovakia in 1948, when the communists seized control.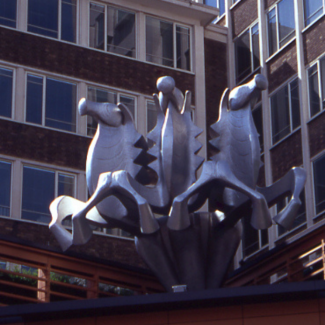 'Triga' (1958) - Knightsbridge, London
Back in London, he exhibited at the Royal Academy and resumed his studies at the Royal College of Art, going on to teach at Art Schools between 1950 and 1955. During this period, he realised a number of sculptures including Joy Ride (1957)  in Stevenage and Lesson (1957) in Bethnal Green, which was commissioned by London County Council as part of a scheme to put art in housing estates, schools and other public places.
Belsky would have agreed with installing Lesson in an East End housing estate. Telling of his desire to create public art, he said, "You have to humanise the environment. A housing estate does not only need newspaper kiosks and bus-stop shelters but something that gives it spirit."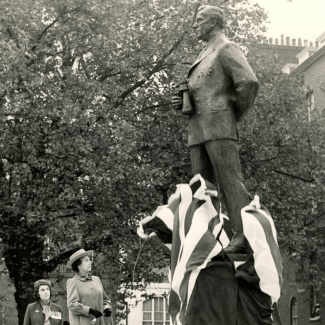 'Lord Mountbatten' (1983) - Horse Guards Parade, London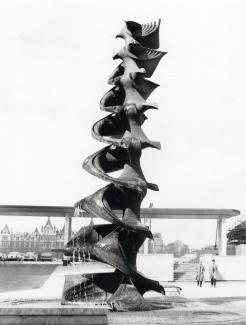 'Torsion' Fountain (1959) - Shell Building, London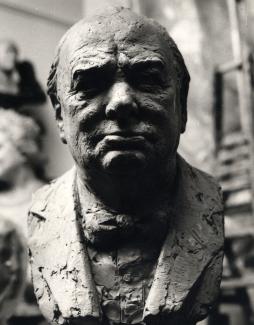 Portrait bust of Winston Churchill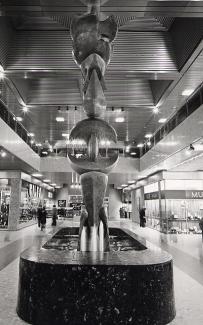 Totem (1977) - Arndale Centre, Manchester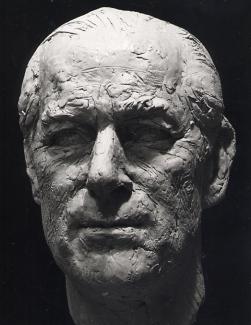 Portrait bust of the late Duke of Edinburgh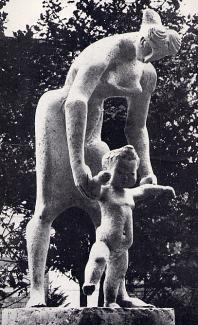 'The Lesson' (1959) - Bethnal Green, London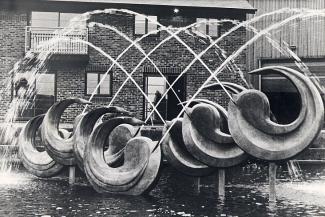 'The Leap' - Blackwall Basin, London
Other works include Triga (1958) in Knightsbridge, a 30 foot-high group of three rearing horses, made of reinforced concrete with a metal coating, and the impressive bronze Torsion, a fountain on the city's South Bank. The magnificent Totem once stood in Manchester's Arndale Centre but has since been removed.
He was also producing portrait busts at this time, including  Sir A.P. Thomson and The Queen Mother in 1959 and 1962; work for The Queen Mother from 1963 in The Queens Collection as well as an 8-foot bronze  of Sir Winston Churchill (1969) for the US Memorial in Fulton, Missouri which was the first of several, including one for the British Embassy in Prague.
He was the first foreign-born sculptor to be commissioned for a work in Trafalgar Square, with his bust of Admiral Cunningham in 1970. Meanwhile, his statue of Lord Mountbatten (1983) stands on Horse Guards Parade and his bust of Lord Cottesloe is in the National Theatre. Belsky also executed two busts of President Truman.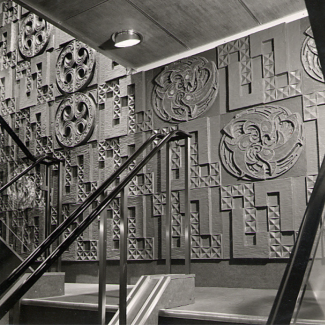 Franta Belsky's interior designs for the British Rail Sealink ferries
Five of Belsky's works are in the National Portrait Gallery's Primary Collection Cecil Day-Lewis (1952), Prince Philip, Duke of Edinburgh (1979), Queen Elizabeth II (1981), Prince Andrew, Duke of York (1984) and John Egerton Christmas Piper (1987).
Belsky was a founding member, then Vice-President and President (1963-68) of the Society of Portrait Sculptors, governor at St Martin's School of Art (1967-88) and Fellow of the Royal Society of Sculptors. After Margaret's death in 1989 Belsky married sculptor Irena Sedlecka FRBS. He died at home  in Oxfordshire at the age of 79 in 2000.
Franta Belsky's archive is held by the Henry Moore Institute. The Royal Society of Sculptors also holds a small amount of papers and imagery relating to his career.