High-profile sculptures of military, religious & historic figures and events
Faith Winter (nee Ashe) was known for a wide variety of commissions, including sculptures for the army. She showed huge potential whilst studying at Guildford School of Art (1944 -1948) under the tutelage of Harry Wilson Parker, designer of medallions and coins, as well as Willi Soukop RA and Fred Brill. Four of her works were accepted by the Royal Academy and she won the Feodora Gleichen Award, presented by the Royal Society of Sculptors to a female student of promise on leaving art school. Marrying into the army, she travelled extensively and returned to Surrey in 1973. At this point she received a commission which helped launch her career.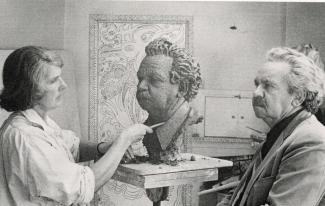 Winter received the commission for The Soldiers, which now stands at Blandford Camp in Dorset, and was later appointed to sculpt a portrait bust of HRH the Princess Royal which was executed in five sittings at Buckingham Palace. During this period, Winter also took on a number of teaching stints, including at the Folkestone Art School.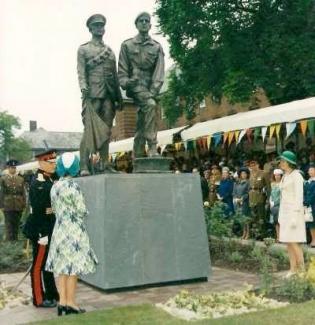 She went on to sculpt a series of historical figures and memorial works, including Air Chief Marshal Lord Dowding (1988) and Marshal of Royal Air Force Sir Arthur Harris (1992), at St Clement Danes Church on The Strand, London. The latter was intended as a memorial to Harris and the 55,000 men of Bomber Command who lost their lives in the war. However, it caused controversy for honouring the man who introduced the WWII policy of carpet-bombing German cities.
Elsewhere, Winter's work includes the famous botanist John Ray (1986) at Braintree; Archbishop George Abbot (1993) at Guildford; the Second World War Polish commander General Sikorski (2000) at Portland Place, London, as well as The Pearce Memorial Fountain (1992) at Thame, Oxon, which takes the form of a boy holding a carp whilst standing on a turtle.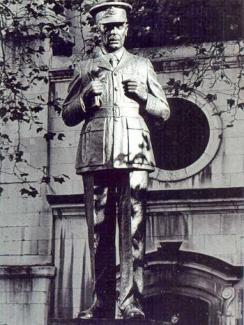 Overseas works include the Memorial for the Liberation of the Falkland Islands (1984) at Port Stanley; the Memorial Plaque - Mulberry Harbour Memorial (2000) at Arromanches, Normandy; the 24 six-foot wing-span eagles at Lagos, Nigeria; and The Spirit of Youth in Dundas Park, Canada.
Meanwhile, her portrait busts include: David Devant (1998) commissioned by the Magic Circle, London; Daniel Arap Moi, President of Kenya for the Kenyan Government; Alan Beckett, designer of the Mulberry Harbour; Maria Callas at Renishaw Hall, Sheffield and the Lebanese Druze leader Kamal Jumblatt at the Kamal Jumblatt Museum, Lebanon.
Winter was elected Fellow of the Royal Society of Sculptors in 1983 and the next year was awarded the Silver Medal for The 15 Mysteries of the Rosary installed in The Church of Our Lady Queen of Peace, Richmond. In 1993 she received the Guildford Society's William Crabtree Memorial Award for her Archbishop George Abbot statue in Guildford. Faith was also a Member of the Society of Portrait Sculptors. Two of her three children - David Winter and Alice Winter - followed her footsteps into sculpture.