ONE OF SPAIN'S FOREMOST SCULPTORS OF THE 20TH CENTURY, FAMED FOR HIS MONUMENTAL ABSTRACT WORKS
Chillida's monumental sculptures in granite, steel and stone can be found around the world, from Washington to Paris, Dusseldorf to Dallas. He was fascinated by the interplay between shape, space and abstract forms. His works suggest tension and were often inspired by his Basque heritage.
Chillida was awarded the Carnegie International Prize in 1964, the Andrew Mellon Prize in 1979, and the Japan Art Association's Praemium Imperiale prize for sculpture in 1991. In 1998 he was elected an Honorary Fellow of the Royal Society of Sculptors, and major retrospectives of his work have been mounted across the globe.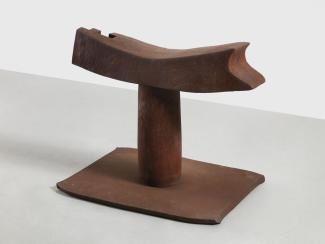 Born in San Sebastián, Spain, Chillida began his career studying architecture at the University of Madrid but soon turned to sculpting instead. In 1948, he was awarded a scholarship to attend the Cité Internationale Universitaire in Paris where he learned to work in iron. His early career is marked by a predisposition towards iron, including his four iron doors for the Basilica of Aranzazù (1954).
By 1955 he had returned to San Sebastián, where he set up his own forge and studio. He later worked in a range of materials including granite, steel and stone, always preferring monumental sizes.
In the early 1980s, Chillida and his wife bought a sixteenth-century Basque farm and began creating a permanent place to display his work in a natural landscape. The garden at Chillida Leku is home to more than 40 enormous sculptures which converse both with nature and each other. He restored the farmhouse, approaching the building restoration as a sculpture.
In 2018, the Royal Society of Sculptors exhibited Chillida's Saludo a los Pajaros II (Salute to the Birds II) on the sculpture terrace at Dora House. This majestic, abstract sculpture is forged in corten steel and appears almost weightless, such was the Spanish-Basque artist's mastery of material, form and scale.