A leading sculptor of his time, celebrated for his war memorials
Active service in the Great War gave Jagger an unparalleled insight into the realities of war, making him much in demand in Britain, Europe and beyond for his memorials as well as private commissions. Awarded the Military Cross for gallantry, he was shot through the shoulder at Gallipolli and later gassed in the trenches and wounded once again in Flanders. Near the end of the Great War, he was appointed Official War Artist by the Ministry of Information. With this first-hand experience of war, Jagger was commissioned to make the Great Western Railway War Memorial in Paddington Railway Station and the Royal Artillery Memorial at Hyde Park Corner. The latter caused controversy as it broke with convention by depicting a dead soldier. However, the Royal Artillery was delighted with it and continues to make it the focus of their Act of Remembrance on Remembrance Sunday. Jagger was awarded the Gold Medal of the Royal Society of Sculptors for the work.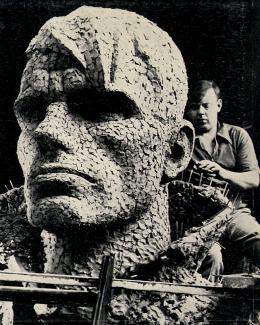 Other notable works include The Kelham Rood, three life-size bronze figures of Christ Crucified, the Virgin Mary and St John the Evangelist; the much-admired Portland stone reliefs on the exterior of Sir Frank Baines' Thames House at Millbank; as well as his bronze Sir Ernest Shackleton for the Royal Geographical Society. In New Delhi,  he worked with Lutyens to produce statues of two past viceroys, Lord Harding and Lord Reading. He also sculpted the Elephants on the Rashtrapati Bhavan and collaborated with Lutyens on the extraordinary 18 feet tall marble statue of King George V.
Born in Yorkshire to a colliery manager, he started a silver-engraving apprenticeship aged fourteen with Messrs Mappin & Webb, where he was allowed to study art part-time. In 1903, he won a scholarship to the Royal College of Art where he became both pupil and assistant to Professor Édouard Lantéri. In 1914, he became the second Englishman to be awarded the Prix de Rome by the Academy of France, but was prevented from taking it up by the outbreak of the Great War.  He was elected a Fellow of the Royal Society of Sculptors in 1923 (winning the Gold Medal in 1926 and 1933) and an Associate of the Royal Academy of Arts in 1926.
His early death  was attributed to his workaholic nature and old war wounds. An English Heritage Blue Plaque marks his former home at 67 Albert Bridge Road, Battersea, London.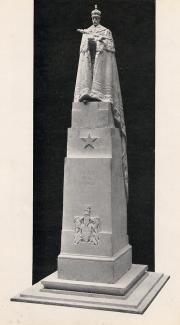 The Imperial War Museum hold a small archive on Charles Sargeant Jagger, as do several private collectors and researchers.