ARCHITECTURAL SCULPTOR WITH STRONG LINKS TO THE NEW SCULPTURE MOVEMENT
A prominent sculptor in the early 20th-century, Drury's work can be seen across central London, including eight stone sculpture groups on the former War Office building in Whitehall, reliefs and figures on the main entrance façade of the Victoria and Albert Museum and four colossal meditative female statues on Vauxhall Bridge. Over the course of his long career, he focused on decorative figures, large monuments, statues of royalty and war memorials.
His many works outside London include Circe (which earned him the Gold Medal at the Paris Universal Exhibition in 1900) and eight bronze lampholders called the Morning and Evening Girls in Leeds. Other examples of his work include, the Boer War Memorial in Warrington, Queen Victoria Memorials in Portsmouth and Bradford, and the Edward VII Memorials in Aberdeen and Birmingham.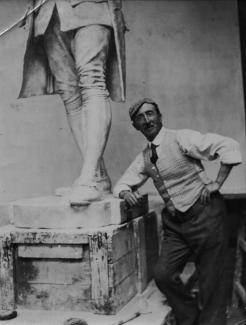 Born in London, Alfred Drury studied first at Oxford School of Art, then South Kensington Schools under Jules Dalou. An outstanding student, he was awarded the gold medal for his sculpture for three years running. Following his studies, he assisted Dalou in his Parisian studio from 1881 to 85, before returning to London where he worked as assistant to Joseph Edgar Boehm RA.
His early work was influenced by Dalou and also, to some extent, by Alfred Gilbert, another of Boehm's students. Drury exhibited at the Royal Academy for the first time in 1885 and taught briefly at Wimbledon School of Art from 1892 to 93.
Drury was elected ARA in 1900 and RA in 1913. He was awarded the Royal Society of British Sculptors Silver Medal in 1932 for his statue of Joshua Reynolds in the courtyard of Burlington house, London. He married Phoebe Maud Turner in 1900 and one of their two sons was the artist Paul Dalou Drury (1903-87).
Alfred Drury's archive is held in a private collection by his descendents.