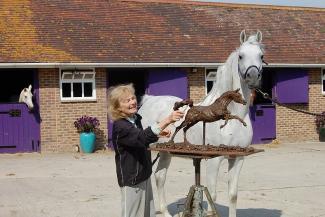 Lorne McKean FRSS
The Royal Society of Sculptors has grown substantially since it was first founded in 1905, going from a membership of 51 to almost 700. The majority of our members make a lifetime commitment to the Society, and we are delighted to celebrate Fellows who have been with us for 50 years! 
Lorne McKean FRSS joined the Royal Society of Sculptors in 1965 and was elected a Fellow in 1972. Lorne was a student at the Royal Academy Schools, winning the Leverhulme Scholarship, the Silver medal for sculpture combined with architecture, the Feodora Gleichen Scholarship and two of her sculptures were accepted at the Royal Academy when she was only 20. 
Below, Lorne has answered some questions put together by the Society's current Vice President Almuth Tebbenhoff VPRSS.
WHO WAS THE FIRST PERSON TO ENCOURAGE YOU TO BECOME A SCULPTOR?
A sculptor called Prince Serge Yourievitch who shared a studio with Rodin came to my mother to use one of her dance students for a sculpture. I was 10 years old at the time and he saw my sculpture efforts, which consisted of carved salt rabbits, soap bulldogs and an attempt to model my pony. He just said "I will teach her sculpture".
WHO WAS YOUR MOST INFLUENTIAL TEACHER?
Michael Rizzello, a sculptor and designer who attended the Royal College of Art and later studied sculpture in Italy. He served an unprecedented term of two 5-year periods as President of the Royal Society of British Sculptors. His public statuary includes Dancer with Ribbon in Oxford Street, London (the Plaza, the old Bourne & Hollingsworth). His David Lloyd George stands in Cathays Park, Cardiff, and other portrait busts include Nelson Mandela.
WERE YOUR PARENTS ARTISTS / ARTISTIC?
My mother was a dancer and choreographer. My parents' uncritical support was certainly the biggest help I had in my early years.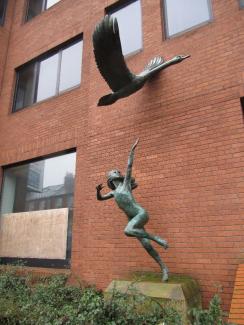 Lorne McKean's The Girl and the Swan
HOW DID THE ART MARKET RESPOND TO YOUR WORK IN THE EARLY DAYS
I was very lucky that I had quite a bit of work from early on. Initially, I did work for cost price while a student and that snowballed into commissions after I left art school. There was no one making polo sculpture at the time and I loved the combination of horse and man at the height of their game. My polo work was seen by the Sladmore gallery and an exhibition there followed. Through that exhibition, I got the first of my royal commissions, which also helped accelerate my sculpture career.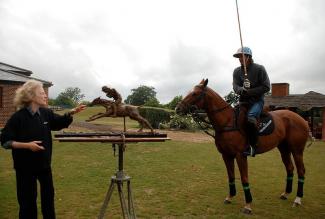 Lorne McKean with an example of her polo sculptures
WHAT WAS YOUR BIGGEST OBSTACLE AND HOW DID YOU OVERCOME IT?
At the point I was training at the Royal Academy Schools, there was a growing trend to more contemporary style work. The idea that I should conform and do more "contemporary " work did concern me for a while, until realised that what I loved doing and felt so inspired by, was also fortunately loved by many of the public who bought ad commissioned my work.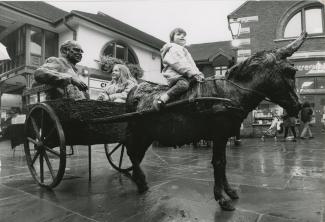 Lorne McKean's Play sculpture in Horsham's Piries Place
WERE YOU PART OF A PARTICULAR GROUP OF ARTISTS?
Three of us used to go over to Prince Yourievitch's studio and work there whenever we were not at art school.
DID YOU DEVELOP YOUR PRACTICE IN SOLITUDE OR WITHIN A GROUP? 
I developed my practice in solitude until I married my sculptor husband Edwin Russell.
DID YOU DREAM BIG OR DID "BIG" SCARE YOU?
I never thought about it and enjoyed whatever came along, the bigger challenges did always excite me.
WHAT IS THE BEST THING A CRITIC HAS SAID ABOUT YOU?
I do appreciate it when critics say good things about my work, but I prefer what the public say. When they tried to remove my Swan sculpture from Swan Walk, in Horsham, there was such an outcry that they had to reinstate it. I had no idea it was even liked and I really valued it when I heard people say what a difference it had made to their lives, giving them somewhere where they could find peace and tranquillity.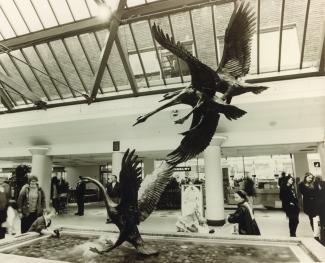 Lorne McKean's Swan Walk sculpture in Horsham
WHAT IS YOUR FAVOURITE COMMISSION / SCULPTURE YOU HAVE WORKED ON?
Probably the Horsham Heritage Sundial as it was fascinating coming up with an idea that combined so many different elements. I wanted it to depict Horsham's heritage in a way that was also timeless. Finding the Shelley quote "The one remains the many change and pass" was the point where I felt that it all came together; combining the ever-changing march through time and the ever-present sun.
IS THERE ANYTHING ELSE YOU WOULD LIKE TO ADD?
It was a big moment for me early on in my career when at a young age I was made a fellow of the then Royal British Society of Sculptors. I was grateful to have that opportunity.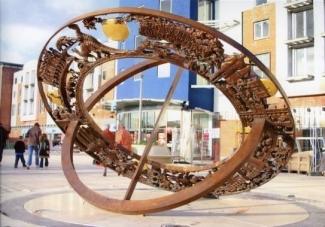 Lorne McKean's Horsham Heritage Sundial
Find out more about Lorne McKean FRSS in this video that illustrates Lorne's process in sculpting one of her best known commissions, Prince Philip on his Polo Pony, commissioned as a silver wedding anniversary gift by HM The Queen who unveiled it in.