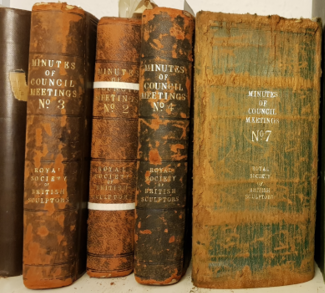 We are delighted to announce that the Royal Society of Sculptors has received a Covid-19 Archives Fund grant from The National Archives to move a large part of our archive off-site and into a purpose-built storage facility. This will protect a number of our oldest and most fragile records from damp whilst we work on plans for the restoration of Dora House.
The Royal Society of Sculptors archive dates back to our founding in 1905 and includes certificates & deeds, the Society's 'Certificate of Incorporation' from 1905, the original Deed of Trust for the Feodora Gleichen Memorial Fund, minute books of meetings annual report booklets 1919-1969, newspaper cuttings about the Society and its members and correspondence relating to previous Presidents. It is deteriorating rapidly due to dire environmental conditions at our HQ, Dora House.
Our current President, Clare Burnett, said; "we are delighted to have been awarded this grant which will enable over 50% of the collection to be moved off site, conserved and safely stored while we formulate a more orderly solution for the remaining archive and reignite our halted capital project".